THN
Learn how to make money with Google AdSense step by step guide in . This tutorial guide will help make money with Google AdSense at home or maximize your Google AdSense earnings. Additionally, you'll get Google AdSense tips on earnings, learn how to get approved for AdSense, maintain your account, and some other top paying AdSense alternatives out there in case you don't get approval.
Are you ready to learn how to make money with Google AdSense?
Let's go: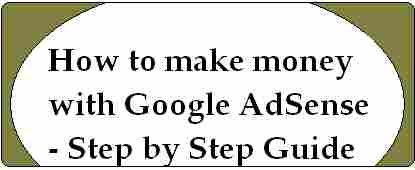 What is Google AdSense?
Many newbies always wonder and frequently ask this question. So what is AdSense?
It is a program that was launched by Google Inc. in 2003 to help share advertising revenue with web publishers like you. Though Google AdSense is not a get-rich-quick program, it is one of the best ways to make money with your website.
Google like any other online business makes a huge chunk of its money through advertising. Advertising revenues run into billions of dollars each year worldwide.
If you look at any Google search results, you will see searches with different dull backgrounds showing at the top and left sides. These are the ads by advertisers on Google. Each time a person clicks on the ads, Google earns money.
Now Google also allows you to show these ads on your website pages and when someone clicks on them you make money from the clicks, impressions, and other call to actions. To show these ads on your site, Google has created a program to help you display these ads and make money from them as Google would. This program is what is known as Google AdSense and is free to join.
How Does AdSense Work?
Google AdSense works in a pretty straight forward way that is simple and easy to understand.
Google Inc. runs another program for advertisers known as Google AdWords.
Many times advertisers advertise online through Google. Before their pieces of advertisement are shown on any site, they have to bid for advertising space and pay for it.
For advertisers to advertise with Google, they have to sign up for Google AdWords. This is where they create, bid for ad space and pay for the ads. The higher the demand for advertising space the more expensive it gets.
After the ads have been created, Google will show some of the ads on their search results pages and some of the websites that use Google AdSense. You will learn more on how to make money with Google AdSense below.
If for example an advertiser paid $100 for 1000 clicks, it means that each click will cost $0.1/click. If a person clicks on these ads when displayed on your site, that's what you earn. This is the AdSense revenue for Google and AdSense earnings for a publisher like you who uses Google AdSense.
Google AdSense Revenue
You now understand how Google AdSense works and how the revenue is generated. Like we said earlier, It is a program that shares revenue with publishers. So someone may ask how much does Google AdSense actually share?
Google shares its AdSense revenue on a ratio of 8:17 meaning that Google takes 32% of the revenue and gives 68% of it. This is the best ratio in the world.
From our earlier example, your actual AdSense earnings will be 68% of $0.1. You can do the math; it means you'll get $0.068/click.
Since Google finds the advertisers for you, they charge the 32% to cater for the costs. You can also search for advertisers yourself, but experience will teach you that it's hard to find one. This is the main reason for publishers joining Ad Networks to make money with.
How to Calculate Google AdSense Earnings
As we said before, Google AdSense pays you when people click on the ads on your website. But the earnings are not only from clicks alone. You also get paid for conversions and impressions the ads that show on your website generate.
Conversions are the clicks that successfully refer a customer to a product or service being advertised. For example, if a phone making company advertises a phone on your site, and a person clicks on the ad you earn some money from the click. Furthermore, if the person goes on to buy the phone that means a sale has been made from your website. This sale is what is known as a conversion. Online conversions may take different dimensions depending on the advertiser's definition.
Upon a conversion, the advertiser will also pay you a conversion commission. These commissions can range from $1 to even $150 dollars depending on the magnitude of the sale and campaign. Conversions pay more, and this is the reason why some people earn more dollars per click.
Apart from conversions, Google AdSense also pays you for impressions. Each time a person visits your site, whether he or she clicks on the ads or not, AdSense still pays you for the visitor. This is because it is assumed that particular person has seen the ad even if he or she does not click on it. How much you earn from impressions, depends on the CTR (Click through Rate) and traffic.
For example, if your site receives 1000 visitors and only 100 of the visitors click on the Google ads on display, your CTR is 10%.
The earnings also keep fluctuating. What you get paid actually depends on what advertisers are willing to pay for the ads. Learn more about Google AdSense earnings here.
Earnings are also determined by the niche and keywords on a website. There are some high paying niches/topics that usually receive high competition from advertisers than others – same as keywords. You can also see a list of the top paying keywords.
How are Google AdSense Earnings Calculated?
So what does the actual Google AdSense earnings 'calculator' say? According to AdSense, earnings are the 60% revenue share from Google AdWords. Also depending on time, niche, bidders, keywords…of the advertising (advertisers), the final earnings will vary. And is only AdSense that is preview to this information. So how are the Google AdSense earnings calculated?
CTR: Your ad Click-through Rate(CTR) is the number of ad clicks divided by the number of individual ad impressions. Assuming you are show 3 AdSense ads on each page of your website, your 1 page view is equal to 3 ad impressions.
CTR = Clicks / Total Impressions X 100%
Suppose, you get 5 clicks out of 1000 AdSense Ad impressions, your AdSense page CTR would be 0.5% (5 clicks /1000 impressions X 100%).
CPC: Cost Per Click (CPC) is the revenue you earn each time a visitor clicks on your AdSense Ad. CPC is commonly dependent on the advertiser's budget. In some competitive niches advertisers may be willing to pay more per click than others.
Suppose an advertiser paid $100 for 1000 clicks, it means that:
Cost per click (CPC) = $100/1000 Clicks which amounts to $0.1 . Therefore your AdSense CPC will be (68/100 X 0.1) = $0.068 per click . If a person clicks on the AdSense Ads displayed on your website, that's what you earn per click.
CPA: Cost Per Action (CPA) is the revenue you earn each time a visitor clicks on your AdSense Ad and take an action set by the advertiser.
For instance, an advertiser may display a call to action Ad on your AdSense site. It can be a registration form, an email newsletter, download, product purchase, … et cetera.
Suppose the call-to-action is a download and the advertiser sets the price to $10 per download, then your AdSense CPA will be $10. So if someone clicks on the Ad and goes ahead to downloan the product, then your Adsense CPA would be:
$10 X 68/100 which is $6.8
That is what you earn per click if a download is made. That is your Google AdSense CPA.
CPM: CPM simply means Cost per Mile or alternatively "Cost Per 1000 Impressions."
Sometimes advertisers opt for CPM ads instead of CPC and set their price for 1000 ad impressions. And they pay each time their ads appear on any website.
For instance, a marketer paying for a piece of advertisement would fragment their targets in 1000 quarters meaning for every 1000 views of the Ads, they set an amount to pay for such views. In this case the CPM, would be calculated as Cost per 1000 impressions (CPI) or Pay per 1000 impressions (PPI). If the said advertiser pays $5 for each 1000 views then the eCPM (Earning Cost per 1000 miles) would be $5 (that is $5 per 1000 impressions).
Sometimes CPM rates are flat while in other cases, they are calcuted by combining various metrics such as CPA(Cost per Action), CPC (Cost per Click),… et cetera thus making it difficult to have a constant CPM rate. This is because apart from the pay for every 1000 impressions, the rates may go higher if a conversion is made or an action such as a sale,signup,visit, etc is taken is made from the clicks.
Other factors such as source of traffic may also influence the CPM rates. For instance, traffic from developed regions such as the USA and Canada tend to have higher CPM rates tough nothing is cast on stones with regards to your AdSense earnings since you can make money with Google AdSense on traffic from literally any region.
In summary for all of the Google AdSense earnings you have seen above, your final revenue will be 68% of the total earnings since Google will keep 32% as per the revenue sharing terms. Mainly because Google is responsible for finding for you advertisers.
Will You Pay Tax on Your Earnings?
The answer is yes and no. Depending on your location (country), you will not pay tax on your Google AdSense earnings. However, countries with such tax policies like the US do require that you pay taxes on your AdSense earnings. Before you withdraw your AdSense earnings, you will be required by Google AdSense to fill a tax form. Note that this will depend with your residence from your AdSense profile. However Google AdSense pays the tax on its products so your earnings are not subject to further taxation by anyone. Remember not to lie about your residence since if you do so, your earnings might be lost.
How Can You Increase AdSense Earnings?
Who wants to earn less with Google AdSense? You have to realize that the term 'increase' is not the most appropriate since the control of what you earn is out of your hand. So you can only optimize for more Google AdSense earnings. There are lots of ways to achieve this. The metrics to be applied are numerous to be discussed here.
How Do You Withdraw Your AdSense Earnings?
Finally, with all that knowledge of AdSense earnings, how can you withdraw your Google AdSense earnings? According to the AdSense team, there are various ways and steps of getting your money from Google AdSense. The mode or option of payment will depend on your residence (country you live in), amount you are withdrawing, earnings threshold…. This is how to get your earnings from AdSense
Google AdSense earnings proof
Here is a screenshot proof of Google AdSense earnings.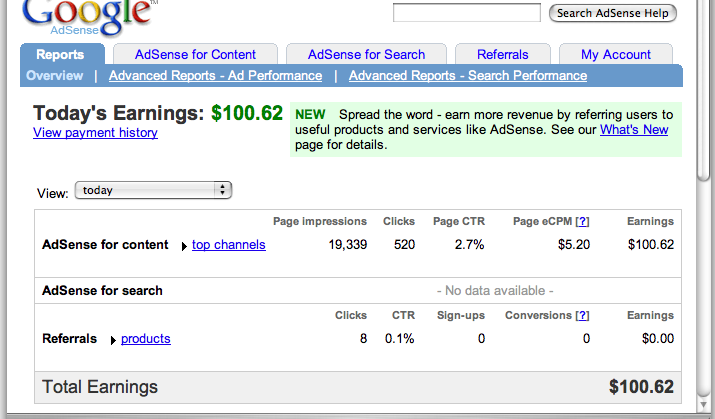 How to Make AdSense Website in Minutes
From what you have seen so far, it is wise to strategize before creating your website. Take note that if you start with a main agenda and aim to make money with Google AdSense, then you'll probably find the going rough. Taking time to create and build a quality site should be at the center of your focus.
You should know the niche or topic you want to venture into and the keywords you want to rank for. Remember to venture into niches/topics you understand well and are familiar with. You have to be a real guru in your field.
Once you have decided on what you want to do on your site, you can now learn how to make your website in minutes.
Creating a website normally will cost you around $5 per month or roughly $60/year – for your domain (website name registration) and web server (where your website files are stored). Below is just a quick guide for creating your Google AdSense website:
Step 1: Register your Domain (Website Name)
Just like normal offline businesses, every website on the world wide web (www) needs an address – something like www.YourWebsiteNameHere.com
Domain names MUST be registered in order to be seen on the internet. Registration is usually done on a yearly basis after which the domain expires if you do not renew it. Registering a Top Level Domain (like the .com, .org, .net, .biz, .co.uk, et cetera) may cost you anywhere between $13 – $80 per year and renewal fees are usually the same.
Nonetheless on our next step below we will show you how to get one year domain registration for free using a special discount link reserved only for our readers.
Step 2: Get a Web Server
A web server is the most vital resource for any website. Without it, no website file/page can be accessed via the internet even if you have a domain name registered. This is a resource just like your normal computer disk space where you store you web files. Be it photos, videos, PDF files, ….
Web servers are normally rented and paid for on a monthly basis, just like you do with your rented house. The difference is with web servers, you are required to make lump sum payments on annual terms (yearly basis). For example, a web server provider that charges $5/month will need you to pay ($5 * 12months) a total of $60 for the servers. However below we will show you how to get a server for less $2/per month.
When you finally purchase your web server, it will propagate your domain Name Servers on the internet (takes between 12 – 48 hours) after then, you will be able to access your website when you type in your address (www.YourWebsiteNameHere.com) on a web browser (like Firefox, Chrome, …).
Already, set? Let us see how to register our domain (for FREE) and set up our server(for $1.99/month) in less than 5 minutes below:
Start by going to the Web Server Provider Website (iPage)
On the website, click on the "Get Started" link button shown below:



Next we are going to register a FREE DOMAIN (Web address) Name
By now we suppose you already have an idea of the name you would want for your website. However if you find that it is already taken by someone then you can brainstorm a new one or be creative with the name in order to find one that is available for registration.

Below we are going to register our own domain name (CarrotsRecipes.com) for our website where will be blogging about carrots recipes and other carrot related stuff.
You can follow examples from our screenshots below to help you do it yourself (to register your own domain name).

To register a domain name, just type the name that you wish for your to be website. For our case, we first tried carrots.com but since it was already taken, we went with CarrotsRecipes.com because it was available for registration. Just enter a name and search to see if it is available.

If you followed our link above, we promised that you will get 1 Year FREE domain registration. You can confirm that from the screenshot below. You can also see that our domain has other extensions available like the CarrotsRecipes.net, CarrotsRecipes.tech, CarrotsRecipes.space … but we just chose the .com because it is the most popular domain extension.
When done, just click the "Next, choose my term" button to select your term.

Here we are going to select a payment term and then later pay for our web server. It is recommended that you go for longer periods to save big however if you do not have the funds you can just host your domain on your server for 1 year and renew it after 1 year when you have the money.

For our case we will select a 1 year (12 months) contract so that we pay less since we don't have much in our budget but nonetheless we would have gone for the 3-year plan which goes for $1.99/mo.

By default the website auto-selects 3-years for your contract, to modify that to two or one year like us, just click on the "change" link next to "web hosting".

Unpick Add-ons and Make Payments
Web server providers (web hosts) may try to sell you additional items at checkout but these are things you can buy later when you have money. So removing them for the moment may sound wise but some like SSL certificates are good to buy since they secure your website.

For our case below we only have $35 to spend on a domain and server for 1 year, so we are going to remove the Additional Products our web host is trying to sell us (worth $9.99 below) so that we only pay $35.88 for the entire order instead of $45.85 as illustrated below.

After then we are going purchase our services (domain + server). You can make payments with your credit card or PayPal balance. But before making payments, make sure you complete the billing info where you will enter your name, address, select your country,…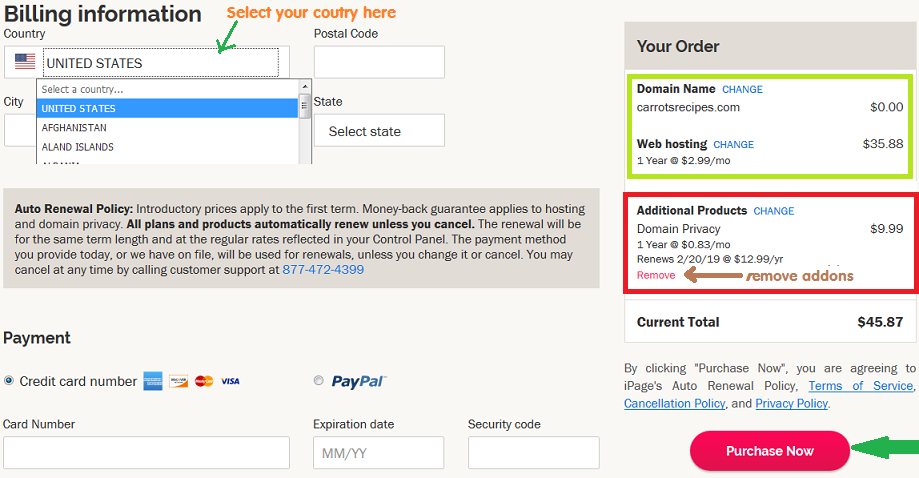 If you followed everything correctly, now you own a domain name and a web server. In the next 12 – 48 hours, you should be able to access your website when you type its address (http://www.YourWebsiteNameHere.com) in your browser- for our case if we visit http://www.CarrotsRecipes.com
Now let's design and publish our website in the next step (NO web designing skills required* – we'll show you how to)
Step 3: Design your Website
When you hear web design you are supposedly thinking technical stuff like writing crazy computer code like HTML, CSS, PHP, JavaScript … and the likes. Yes that is basically the life of a web programmer but with the web server we are using above things have been made chewing easy. You totally do not need to have any programming knowledge or IT background to design your website. You are provided with free software that will do that for you effortlessly.
Basically you can design your website without programming knowledge in two ways; using a Drag and Drop website builder or by Installing a Content Management System like WordPress. Let's look at each option and find a suitable one to use.
The Drag and Drop website builder is sort of self-explanatory, you simply just drag and drop features you want on your website and they are implemented. Even this is usually good for beginners we normally discourage using it since things can somehow get ugly when your website becomes big and you need to put other various plugins; very good software but no we will not use it for its limitations.
The other one is WordPress. WordPress is the easiest CMS (Content Management System) used by over 90% of blogs in the entire universe. It lets you manage your website as if you are using a normal basic document like Word. You just drag and drop your files like videos, photos; you edit your pages just like your normal editor, insert links, et cetera.
For both website builders, you will need a theme/template. A theme is a sample website already designed that you can copy or install your website. Our web server above offers you FREE THEMES once you have WordPress installed. There are also advanced beautiful premium themes that you can always buy from Themeforest and install on your WordPress site (recommended) but that all depends with your budget. Unlike domains and web servers, a theme license is something you buy once and you own the rights to that particular theme forever. There are no renewal fees or any other charges. Theme licenses usually go for $9 – $3000 depending on functionality. A good place to browse/buy themes would be Themes by Theme Forest.
You can read the best simplified complete step by step guide Installing WordPress and Theme on your iPage web server online since the process is beyond the scope of this page.
However if you need us to help you with the installation of WordPress and Theme, you can email us at [ admin@TopHostingNet.com ]. We will sort you out at the earliest possible time.
Step 4: Publish your Website
Publishing your website is basically adding content to it. Content is what people see when they visit your websites pages like everything you are reading on this page, that is the content of this page. You too can write anything on your website on any topic be it politics, health, agriculture, gardening and home care, fashion, sports … you name it.
What you publish on your website depends with the niche of your website. If you don't have time to write, you can always hire freelance writers for as little as $5 per article. On the other hand if you are passionate and have enough time, then you can always do it by yourself.
You can read this guide on how to publish your website with WordPress like a pro.
Step 5: Make Money with Google AdSense
Once your website is up and running, you have published articles/pages (at least 30), and are already receiving traffic (visitors) to your website, you will now need to apply for the Google AdSense program and implement the code for the Ads in order to start making money with Google AdSense display advertisements. That is what we are going to look at in depth in the next AdSense step below.
And that's how you set up your Google AdSense website. However should you face any challenges or need us to help you setting up your site, then send us an email at address [ admin@TopHostingNet.com ] to get absolutely free assistance.
How to get Google AdSense Code
For Ads to show on your site, you must first sign up for AdSense. Signing up is free and takes few minutes.
Then copy and paste the Ads HTML code on your website or blog. Thereafter, wait for the AdSense team to review your site and if you get approved, the Ads will start showing on your site.
Here is a step by step guide for implementing the Google AdSense Ad code on your website. If you don't get approved, you can always try the top AdSense alternatives listed in our Guide below.
Step 1: Ensure you have a web site and substantial content.
AdSense revenue is shared with bloggers and webmasters. So you have to own a website/blog and put content to it; at least 25-40 pages on your site. Your site's content must also meet Google AdSense guidelines. If you don't have a site, learn how to make a website and start earning with AdSense. Or send us an email at address [ admin@TopHostingNet.com ] to get our free assistance.
Step 2: Sign up for AdSense and create a personal profile
to sign up for AdSense, just go to Google AdSense Page and sign up free. AdSense sign up is free but you have to wait and get approved first to start earning. While signing up, you will have to fill up your AdSense personal information that Google will use to send you your AdSense earnings. Fill everything accurately in order to receive your hard earned AdSense earnings.
Step 3: Generate AdSense code for your website
Google AdSense pays you when you display ads on your site. When a visitor clicks on the ads, you earn some money from the clicks with AdSense. For the ads to show on your site, you have to copy and paste the AdSense code to your site. This is how to generate the AdSense code;
Sign into your Google AdSense account.


Then create an AdSense ad unit
By going to: My Ads> Ad units, then click "+ New ad unit" link/button.

Name your ad unit and select a size.
After creating an AdSense ad unit, then name it to help you manage the ads data. You can give it even your files, names e.g. file1.html, file2.html…. Then pick an AdSense ad size that you want to appear on your site. You can select any size ranging from the small Button (125 x 125), to the Wide Skyscraper (160 X 600) … etc.

Set your Ad type and make a custom channel.
You can make an ad type to determine the type of ads that appear on your site. The ad types can be: text only, text and image etc. After that, make a custom channel to help you analyze your ads performance. Setting a custom channel is optional.

Make an ad style.
It is preferred that you use the default Google AdSense settings here. However you can make ad styles that blend with your site's settings.

Finally, generate AdSense code and paste it to your site
to start earning cash when people click on your ads. To get the AdSense code, just click the "save and get code" link. Then copy and paste the code to your web pages where you want the ads to appear.
Step 4: Get approved and make money
After pasting the AdSense code, you have to wait for Google AdSense to approve your site after it has been reviewed for AdSense best practices. When approved, then you can start to make money. You can also learn tips on how to earn more money with Google AdSense below.
Step 5: (Final step) Manage your account
after being approved for AdSense; it's time to manage your account. This is the most important part in making money with Google AdSense. You have to manage your ads and notice the best practices that work for you. With time you may also need to maximize your earnings or just implement other ways on how to make more money. But the word of caution is 'DO NOT CLICK ON YOUR AdSense ADS'. Clicking on your ads will make you get banned or your earnings withheld by Google as a penalty for fraudulent activities. And once you are banned, you will never be accepted back. Also keep yourself updated with AdSense policies to be able to make money with Google AdSense.
How to get Google AdSense Approval
Signing up is easy and free but getting approved is not. You have to follow the stipulated Google AdSense policies and the webmasters guidelines. Here are some key factors to consider before applying for Google AdSense:
You must be over 18 years.
Never lie about your country of residence while signing up since Google robots are too smart to cheat.
Your website must be up and running.
Your site must have rich content for advertisers (at least 30 pages).
Your site must get good organic traffic.
Your site must adhere to the Google webmaster guidelines.
Your site must have a clear sitemap that makes it easy for users to navigate your webpages.
Your site must provide meaningful content to users not just traffic targeting data.
Your site must not have prohibited content such the ones promoting violence, selling weaponry like guns, bullets, …, adult content like gambling, sports betting, p0rn, …, hacking information or similar software, among many other things that by now you should be able to guess. Always provide meaningful content that looks to help your website users while also making the internet safe for all (adults and kids alike).
Any other reason based on Google AdSense program team's own discretion.
Google AdSense Ban or Suspension
Every time, people get suspended or even completely banned from the program. There are many reasons why this happens and for a fact AdSense even states this on their website. The specific reasons are not known. It's been left to Google's own discretion to rule on such matters.
According to the program's team, if you click on the ads on your website or even if they suspect any fraudulent activity on your site, the penalty is a ban or suspension from the network. This is what is publicly known.
Remember, advertisers pay for the clicks and AdSense takes that very seriously. They monitor all the Ads activities especially newly approved sites.
NOTE: If you are suspended it may take up to several weeks to re-apply and be accepted back. However, if you get banned, you will never be accepted back into the program anymore.
Precaution: DO NOT CLICK ON YOUR ADS, NOT EVEN IF ONLY TO TEST THEM.
After getting approved, the following Google AdSense tips will help you maximize your earnings and hence make more money with AdSense.
How to Make More Money with Google AdSense (Increase CTR, CPM, CPC,)
These AdSense tips show how to increase CTR Rates of your Ads in case you want to make more money by optimizing them.
Here are the top 10 tips to make more Money with Google AdSense:
Position of Ads

This is the first step to help you make more money with Google AdSense. Ads should be placed where the visitors to your webpages spend most of their time. The perfect position for your ad placement is above the fold. This way you will get more clicks and hence make more money with AdSense.

NOTE: Google has recently stated in their web master's guidelines that websites and blogs that will be found placing too much ads rather than meaningful content in the above the fold area may get penalized. This is mainly because doing so creates a bad user experience and slows down a site. So please take note.

Keywords

Keywords enable you to get more search traffic from search engines. This will determine the type of ads that show on your site as advertisers bid high on search terms; the idea being that direct visitors from who perform searches with specific keywords tend to convert the most hence a quality return on investment (ROI). Depending on the demand from advertisers, high bid keywords equals high paying Ad. Some of the best paying ads are financial and education based ads. Targeting high paying AdSense keywords ensures you make more money with AdSense.

Good Content

If you have good content, 'Content is King', then it means advertisers are more willing to advertise on your site. One should write unique content that has not been crowded. Also check your content spelling and grammar. If your spelling and grammar is poor, you may get irrelevant ads showing on your site hence low AdSense clicks.

Increase Traffic

More traffic is more clicks hence more money. Increase the amount of visitors/traffic to your site if you want to earn more with and from a blog. Traffic will attract more quality advertisers; especially from SERP (Search Engine Results Page). We have tried to compile for you a list on how to increase traffic for free, without spending a dime. The strategies do work, just click on the link and read on.

Blend Your Ads

If you want to make more money with advertising, then blend the ads to get more clicks. Blending helps the ad content appear naturally as site content so that they do not reflect as something different from the blog. Try to match the fonts of Google AdSense ads with your site's fonts. Also make your Ads links blue, since blue is the universal color for links on the internet. There is a tool in AdSense's site platform that enables you to configure this.

Improve Your CTR

Improve your click through rate (CTR) if you want more cash on the ads you display. CTR is the ratio of visitors to conversion on your site. For example, if you have two in every one hundred impressions on your site as clicks on your ads, then it means that your CTR is two percent. That is; the number of clicks divided by the total impressions times 100%. For our case it gives us 2% Click through Rate; the higher the CTR, the higher the demand for ad space on your site hence high paying ads. To increase your CTR, just follow the above tips and many others below.

Improve Your Page Rank

Sites with higher Google page rank get higher search ranking and hence higher demand and pay. Improving your page rank requires much effort and patience so do not think of doing it overnight. It is a gradual process that needs good work.

Implement Best Ad Sizes

Use the best ad sizes that will ensure that you get more clicks. The best AdSense ad sizes are the 336 by 280 ads that show horizontally. Or for ads that appear on the side bars of your webpages, one can use the 120 by 600 or the 120 by 240 vertical banner ads. These ad sizes blend well with content and will help you earn more money..

Set Custom Channel

Finally, after implementing all the above tips, set a custom channel from your Google AdSense account to monitor how your ads are performing. This will help you notice the best methods, content, pages that make you good revenue and the ones you could improve.

As you do all these keep in mind the rules to avoid any suspension or ban from the Google progam.
How to Make money with AdSense without a Website or Blog
To start using Google AdSense we said you must have a website with substantial content and traffic. But if you actually do not have the means, will or you are not just ready, there are other not so reliable options for you.
You can earn money from AdSense by being a publisher at certain privately owned sites. See how to make money with AdSense without your own website.
Also if you have a personal reason, be it web design issues, you do not have money for web hosting, you are finding it hard for your website to get approved by AdSense … etc.
All in all, we do not believe in quitting before trying as things always get easy. You can send us an email at [ admin@TopHostingNet.com ] and we can see how to assist you with your issues.
How to Withdraw Your AdSense Earnings
Finally, after earning your money with Google AdSense, you have to withdraw your earnings from the program and use it for your own needs. There is a procedure to be followed though in order to get your earnings. These procedures are determined by security, efficiency, tax policies in different countries, the country of residence … the list continues.
Google sets different thresholds and actions to be done in order to get your money from your account. See more about how to withdraw Google AdSense earnings step by step guide.
Google AdSense Alternatives
It is not do or die matter with AdSense. If you are not accepted into their program(mostly because of low traffic), or even you get banned or suspended from AdSense then you can always try out other alternatives. There are other sites similar to Google AdSense that you can use to show Ads on your website. Most of these sites approve instantly and only require that you have a website with content receive any amount of traffic.
Feel free to see our verified list of some of the best Google AdSense alternatives for different content types, their rates, methods of payment … in our best Google AdSense alternatives list.
DISCLAIMER: Advertising is not the only way to make money with your website or blog. See how to make money with a website.
Top AdSense Earners
Need proof of Google AdSense earnings? Well, look no further. As we said earlier, this is not a get-rich-quick program. The top Google AdSense earners get high traffic, conversion rate … etc. To make money with AdSense, you need hard-work and patience. See some of the highest Google AdSense earners list.
And that's how to make money with Google AdSense. Good luck on your journey and it is our hope that you make it through. Thanks for your visit. Cheers!