THN
PariPesa Kenya Payment Options

Generally, there are plenty of options for deposits and withdrawals at PariPesa Kenya. Predominantly, you have the mobile money option (M-pesa) which is the most used and widely preferred in Kenya. They do have M-pesa in tandem with other web platforms like AstroPay and Skrill as well. They also have card options along with the top mobile, e-wallets and banking options. Not forgetting crypto payments like BTC, DOGE, ETH and the likes. That said, in Kenya, you should be good to go with mobile payment. Different deposit and withdrawals methods have different minimums and maximums, and that goes for charges and speed of execution too; so check everything out beforehand.
Mobile money option as the most preferred avenue for most in Kenya (for its efficiency), you get Mpesa, Airtel and equitel as options (with AstroPay or Skrill). Nonetheless, there is a direct m-pesa option for deposits and withdrawals which we have described in the guide below. With Skrill though, transaction fees are low and it allows you to withdraw directly to Mpesa, Airtel Money and Equitel. This helps in cases where M-pesa deposits and withdrawals aren't easily accessible. Check this article on how to withdraw from Skrill to Mpesa.
For payment flexibility, speed and reliability, they score an A- in Kenya and can do much better.
Overall, this bookmaker does a good job when it comes to payment terms, conditions and efficiency. You have lots of options and are not limited. However, important to note that terms governing mobile money in Kenya have to be adhered to as well as anti-money laundering drills.
DEPOSIT OPTIONS: Mpesa direct, Mpesa and Airtel Money with AstroPay and Srill, AstoPay, Skrill, bank, crypto, vouchers.
WITHDRAWAL OPTIONS: Mpesa direct, e-wallets like Skrill, crypto, and bank.
How to
Deposit to PariPesa Kenya with Mpesa
Firstly, you need to log into your PariPesa Kenya account/app in order to make a deposit. Afterwards, to deposit to PeriPesa using M-pesa, click on "Deposit" on the menu bar or, under "my account" go to the deposit section. On the pop-up window (or the deposit page), you will be presented with PariPesa deposit options which you can pick from. The page would display options like in the graphic below:
Step 1: Click on MPESA Option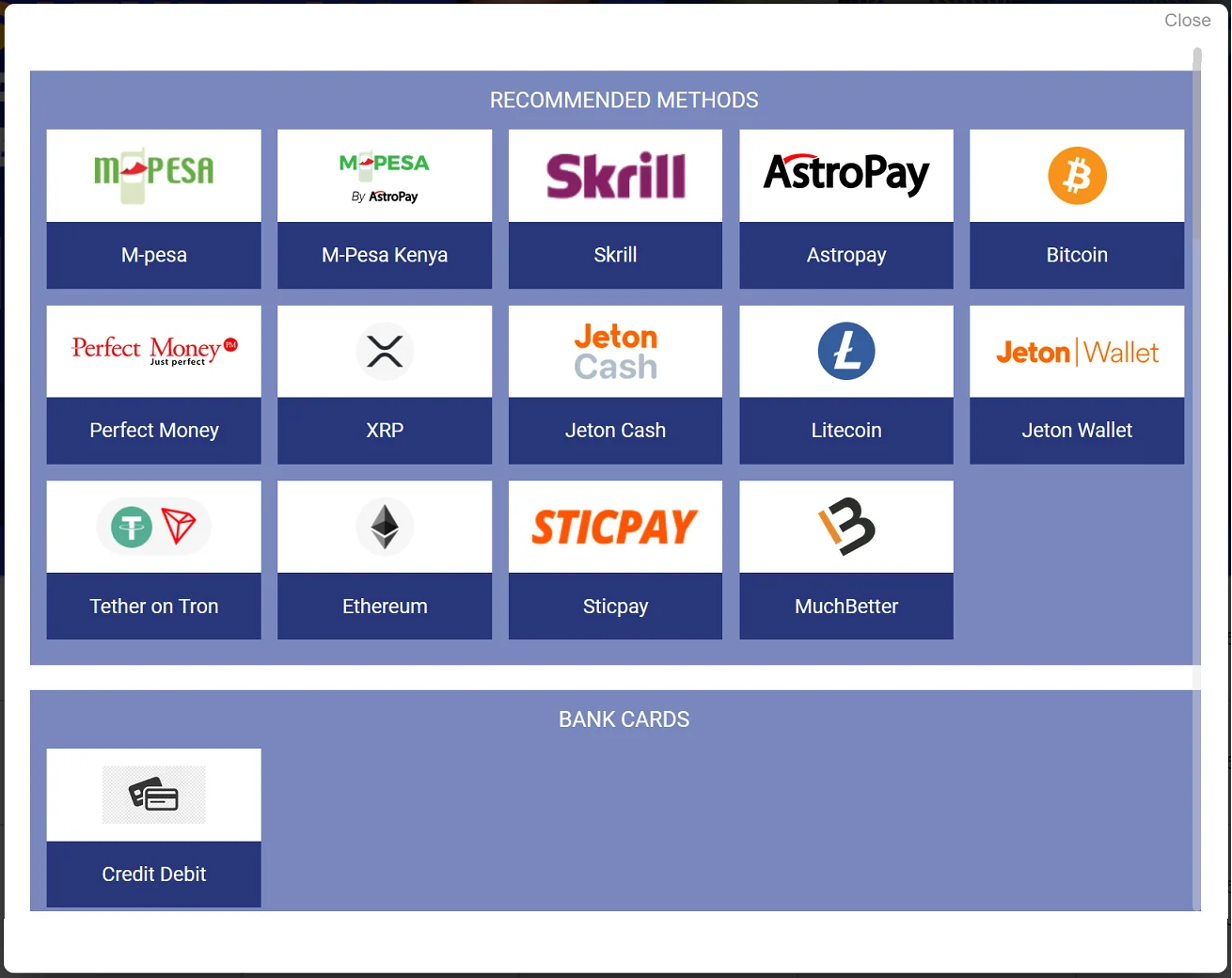 Once you select Mpesa, a dialog box like the one displayed below will open. As you can see, the minimum deposit amount is just 30 KES, and is capped at 250,000 KES. This amount obviously is subject to fluctuation based on the service provider terms. Standard transaction charges hold true.
Step 2: Fill in the Deposit Details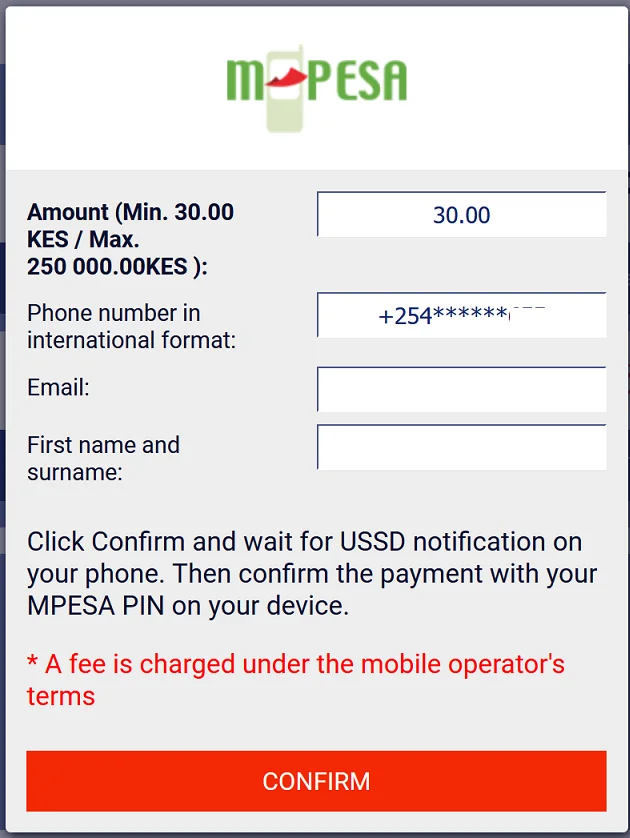 PLEASE NOTE: While making deposits, you must provide your email address in the space provided as well as your names (the two names as they appear in your mpesa messages or ID). Failure to this, you can't really proceed to the next step.
If you have done everything correctly, just click on "CONFIRM" button and go to the next step below.
Step 3: Complete the Deposit from your PHONE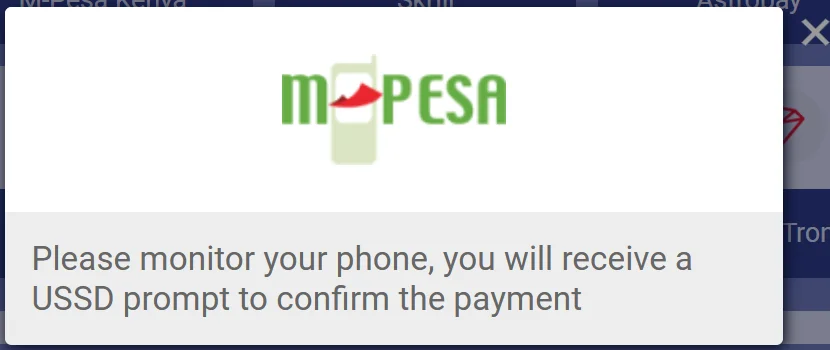 You should see a prompt on your phone's screen with Mpesa asking you to enter your PIN in order to make the deposit. If your screen locks or the message accidentally cancels, just start the deposit process again from step one and this time, do it better.
Step 4: Fill the Mpesa Prompt
The Mpesa deposit prompt will appear like the image below. Just enter your mpesa PIN to authorize the transaction.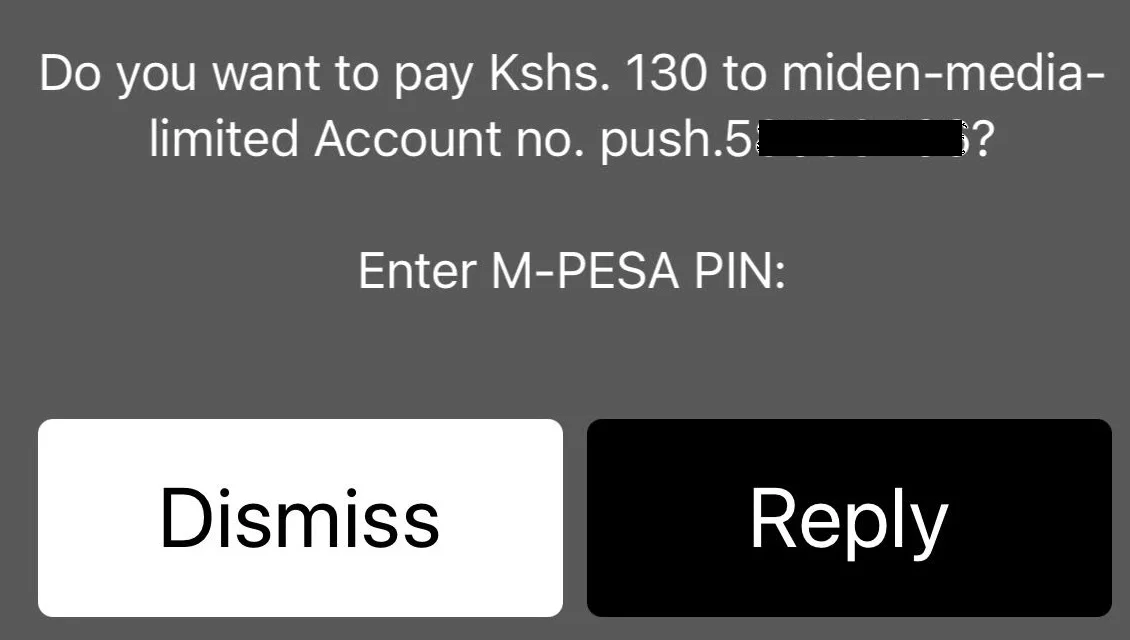 Once done, you will receive a transaction message from Mpesa confirming the payment. Similarly, you can check the message notifications in your PariPesa Kenya account with the status of your deposit (rejected or successful). Deposits only get rejected if you initiate them on the site and fail to complete them from your end. Otherwise, PariPesa does not outrightly reject your funds. It is often something to do with your end, technically.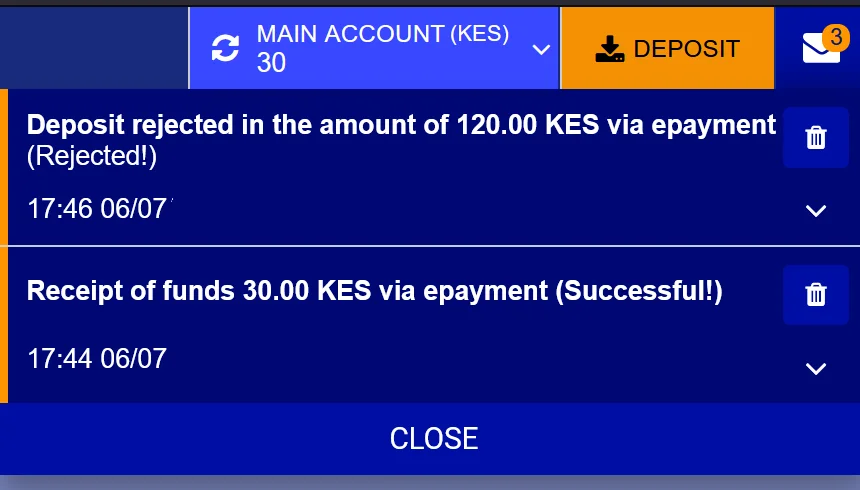 And that is just how one can deposit to PariPesa Kenya in a few clicks. It will not be any much different with other deposit and withdrawal options, as you will need to just follow the prompts as guided by PariPesa website/app, and voila!
Next, let us see an example of withdrawing your funds from PariPesa via Mpesa.
How to
Withdraw from PariPesa Kenya with Mpesa
Withdrawals are equally simple. To withdraw from PariPesa Kenya via Mpesa, take the following steps:
Step 1: Initiate Withdrawal Process
Log in to your PariPesa account and go to "My Account". Then click on the withdawal tab/section/link on the side menu. Select Mpesa from the many options. A display like the one below will show up.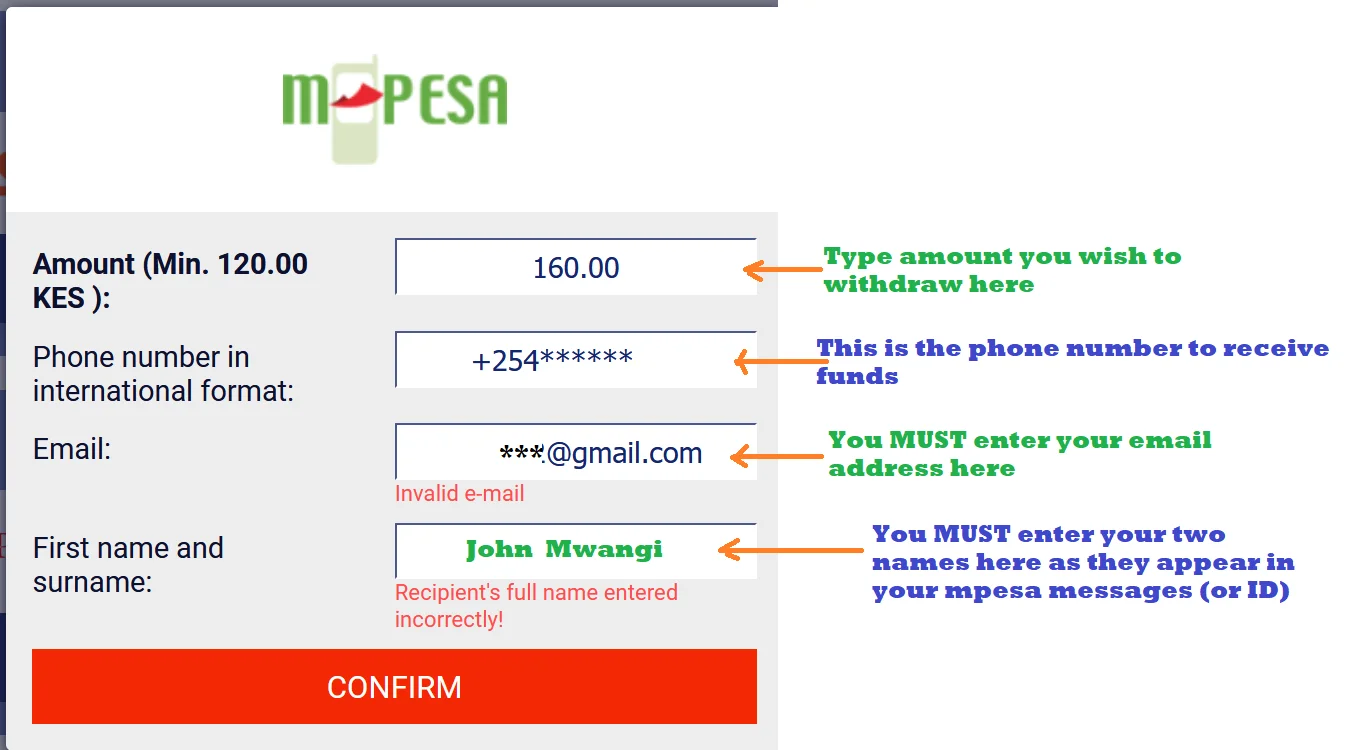 As a precaution, try and follow the leads we have pointed out with the arrows in the figure above. Note that you must enter your email, two names, etc before proceeding to the next steps.
Step 2: Enter PariPesa Confirmation Code
Once you click on "confirm" in the above step, PariPesa will send you a code (number) to insert in the "SMS code" space. Check your phone and if it hasn't arrived after a certain interval, click on the "resend code" button. Nonetheless, insert the code if you have received it and click on the confirm button. Check the image below for example.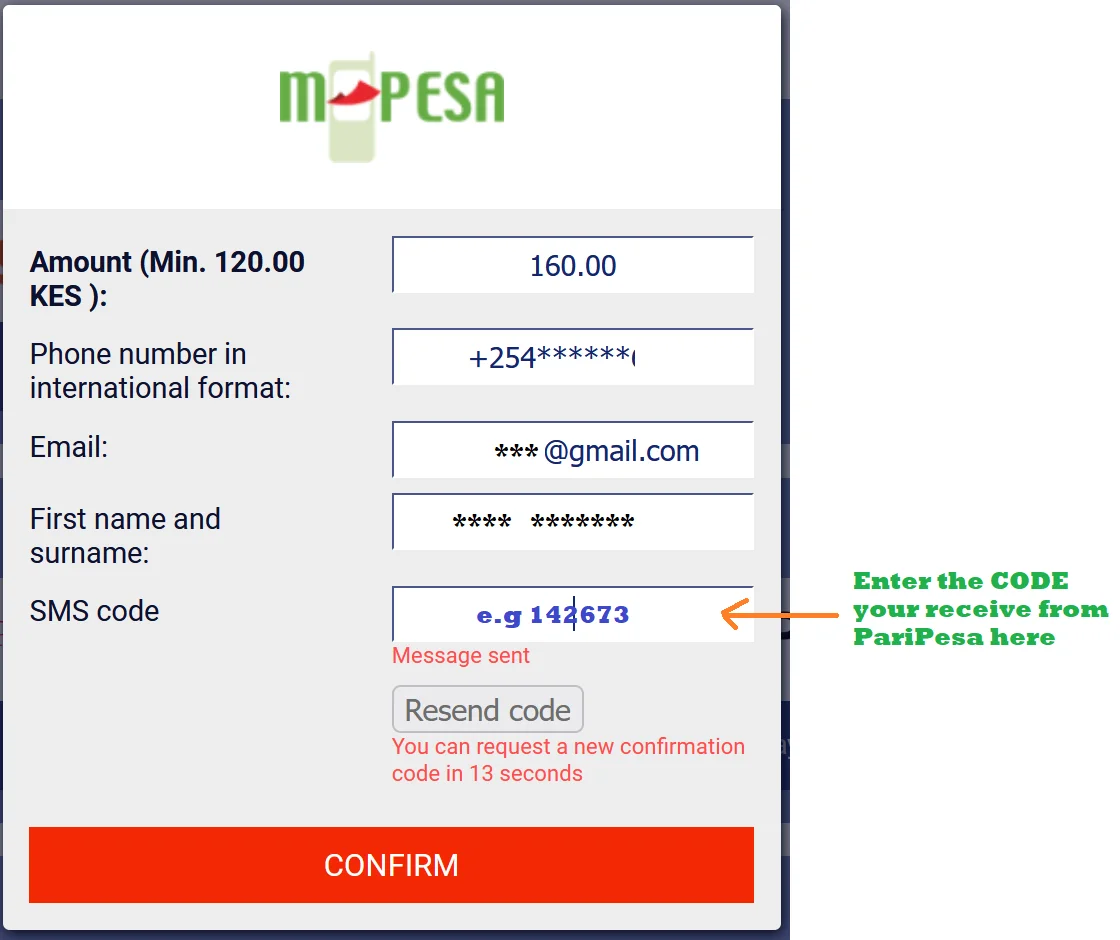 That should lead you to the next stage.
Step 3: Success Message
You should now see a success message on your screen confirming that all has gone through. However, it is prudent to note that PariPesa will still have to whitelist this request to see if it meets the terms.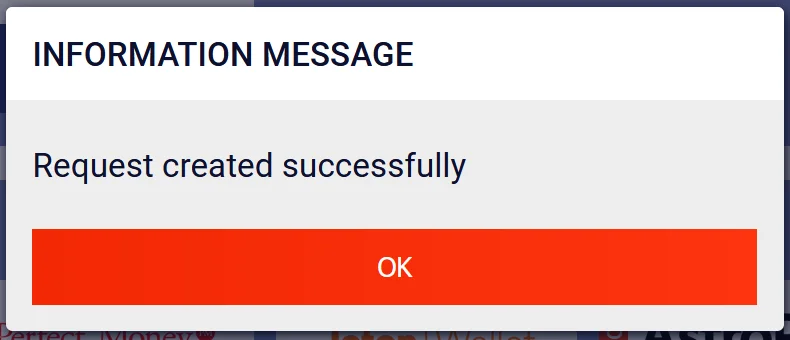 Step 4: Final Step (Get your Money)
If your withdrawal request has been approved by the system (it should not take more than 2 minutes), you will received an Mpesa message on your device confirming the receipt of your withdrawn funds.
On the other hand, it is possible for withdrawals to be rejected according to PariPesa terms, and this is an important thing to be consider. Some of the grounds include PariPesa's strong anti-money laundering monitoring and preventive measures. Money laundering is basically trying to clean proceeds of illicit money by making them pass through legit activities. For instance, a person dealing drugs may opt to wash their dirty money by depositing to a PariPesa account and withdrawing instantly. That is not allowed at PariPesa Kenya at all.
They actually have it in their terms and conditions that one must place a bet of at least 1.1 odds in order to be able to withdraw their funds. Many bookies already do this in Kenya, amongst them being; Sportybet, 1xBet, 22bet and others. So, it is not a foreign idea. It also applies to money transfer services like Mpesa where there is a daily cap on daily transactions.
So, yes. If you think you will just deposit and withdraw at PariPesa, then that is not allowed. Make sure the money you deposit is one that you intend on betting with. The image below gives you a glimpse.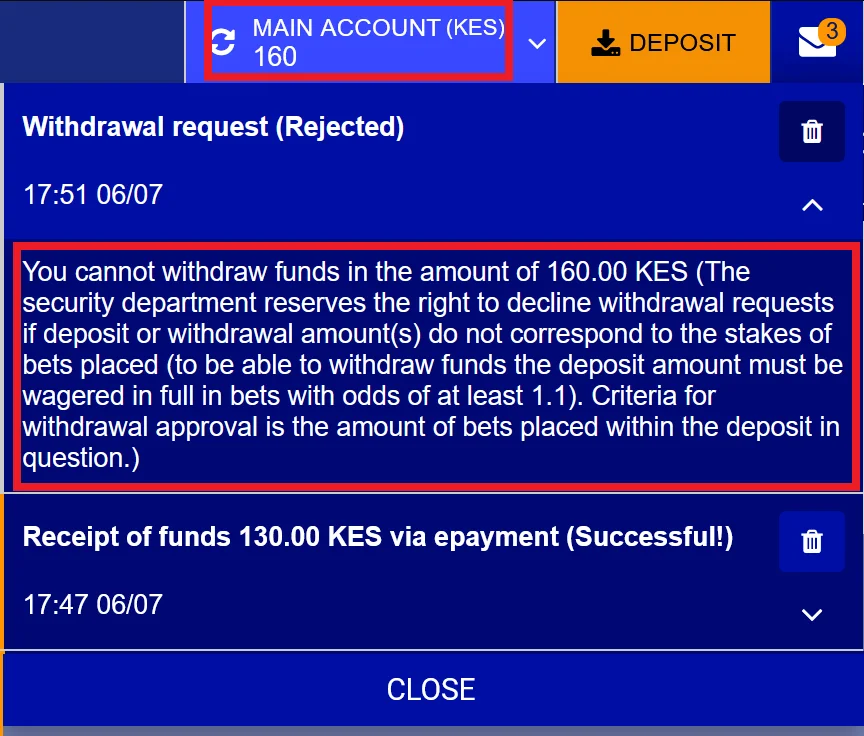 We actually reached out to PariPesa on this issue and they gave us this response as well as pointed us to the terms. That said, if you win your bets; no matter the amount, you can withdraw the entire winnings normally without any restrictions as that is a legit win not subject to further control or scrutiny.