THN

This guide will help you to withdraw your money from Skrill to MPESA account instantly. Just follow to the end and let us know your experience in the comments below. We will use the Skrill iT service.
How long does iT take to withdraw from Skrill?
What is the average processing time for Skrill IT (interational) withdrawals? All withdrawals are instant (less than 2 seconds) when the system is not jammed. However sometimes there are usually slight delays. Once you have fully verified your Skrill account, you can make withdrawals or send money to anyone.
You can now withdraw money from Skrill to M-Pesa in a split second, literally.
ALERT!!: This method of withdrawal atimes may take a bit longer, up to 2 hours. Your account should also be fully verified to be able to use this service. Should you need any assistance, just drop us a comment below and we will get back.
This guide, includes photos (screenshots) taken while withdrawing money from Skrill to MPESA. Just follow this step by step guide to withdraw your money from your Skrill (Moneybookers) to Mpesa account.
How to Withdraw Money from Skrill to your M-Pesa Wallet (Account)
Follow these steps to withdraw money from Skrill to Mpesa:
1. SIGN UP for a free Skrill Account
If you do not have an account yet with Skrill (formally Moneybookers) click on this link to register for Skrill
Why register?
First because the method you'll use below will help you get money instantly from Skrill. Second so that you may switch your payment method to Skrill to avoid waiting periods for withdrawal or agent fees for instant withdrawal.
If you have an account already, then just login to Skrill from this link.
2. Go to Skrill iT!
This is the official Skrill service for sending money from to M-Pesa wallets instantly.
You can access Skrill iT (interational) via https://www.skrill.com/skrillit/
You can bookmark the link for future use or just bookmark this page for future reference. Below is a sample section of the Skrill iT page. If you have opened the link, you should be able to see it. Then now click on the link button labelled, "SEND MONEY NOW".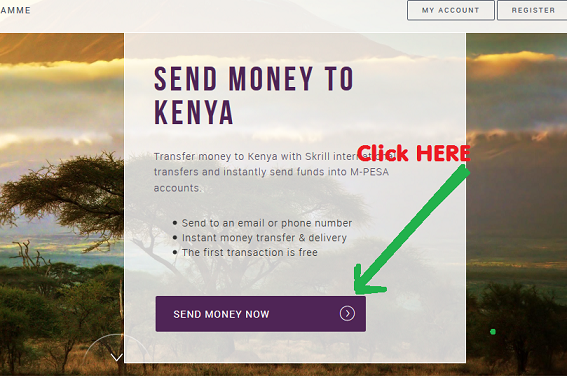 3. Change the Skrill Currency to Kenya Shillings
On the next page you will see the "Instant gloabal money transfer" window section like shown below. By default, Skrill may use a different currency than the one you are transacting on. In that case just change it to your preferred currency type by selecting the country from the dropdown. For our case to change it to Kenya shillings (KES), you will need to select "Kenya" as below. This ensures that the recipient of the money gets it to their mobile wallet, MPESA.
As you can see, we will try to withdraw $15 which automatically converts to KES 1479 at rates of 1 USD = 98.605969 KES. (This is automatically converted for you to Kenya Shillings).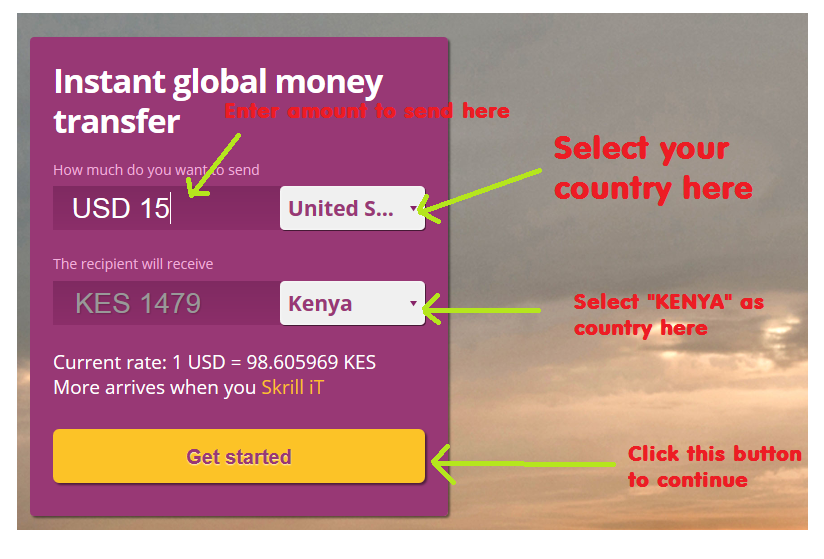 4. Select MPESA Option
This method works with M-Pesa so when you click on "Get Started", that lands you here where you just have to click on the button labelled "M-Pesa".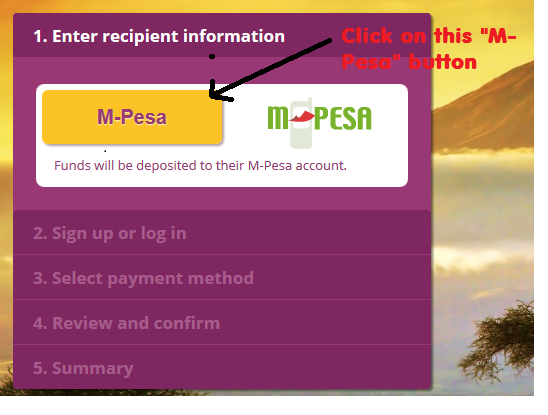 5. Enter your M-pesa details correctly
Here you just need to enter your correct M-PESA details so that the money doesn't go to the wrong person.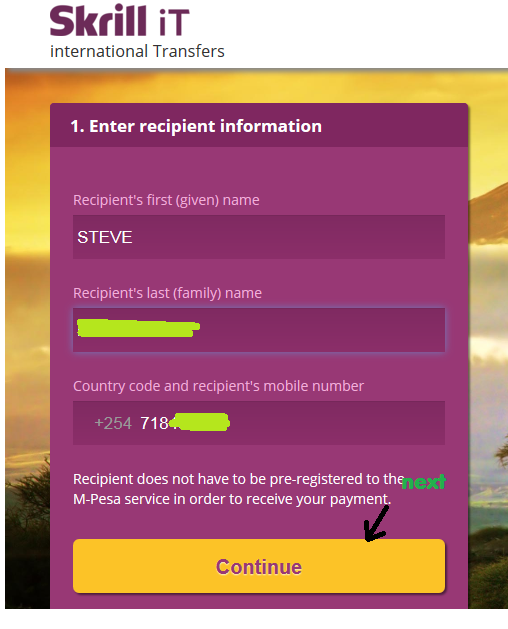 6. Continue to the log in details
If you had not yet logged in, you'll need to do so. Skrill will then give you your balance details and let you know if it will cover the cost.
7. Ensure recipient details are correct
The recipient name can be you or someone else. Make sure you have entered the correct details. If they are correct, enter your birthday (as it appears on your verified Skrill account profile to avoid unnecessary delays). *This is usually done for security reasons. Afterthen, just click on "Send Money" button. Skrill charges a very small fee for each transaction but for the first one (it's FREE by time of writing)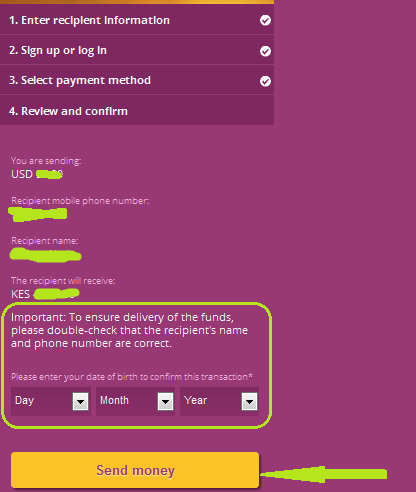 8. Check your M-PESA, Skrill and Email
Yes, literally in micro-seconds you will get the cash on your M-Pesa.
This is what you will see on Skrill
When done you should receive three things imediately:
The amount withdrawn to your Mpesa account
A confirmation SMS from Safaricom acknowledging the transaction
A confirmation email from Skrill also acknowledging the transaction
Conclusion
If you have followed the steps i te guide above, you should have your money in your MPESA account by now.
This is safest and fastest Skrill to M-pesa withdrawal service in Kenya. Should you need any assistance, you can contact the friendly Skrill support team for help.
You can even use this service to send or receive money abroad or even locally.