This Popcash review 2018, reviews key functional features and services that will answer some common Popcash FAQs about the sign up process, Popcash Earnings, Ads, payment and payout procedure, advertiser and publishers options.... At the end of this Popcash review, you should be able to make a judgement whether to start, continue or quit publishing or advertising with Popcash.
Note: This Popcash review is independent. This Popcash review is only an analytical review of Popcash's services and not an endorsement. Signing up for Popcash is under your own free will and discretion.
Popcash review 2018

Popcash PPC was founded in 2003 and is as old as the world's best Ad Network for publishers, Google AdSense. Popcash has risen to be among the best cpm Ad Networks in the world today. Popcash currently has thousands of advertisers as well as publishers that use their services.
PopCash Ad Network Review in a Nutshell
Ad Network Type:
pop-under
Minimum Payment:
$ 10
Payment Frequency:
Daily Payments or few hours after request)
Payment Method:
PayPal / Paxum / Payza
Country:
US
Alexa Rank:
Top 300 sites in the world
Approval time:
Instant
CPM Rates:
$1.8-$18 per 1000 impressions depending on traffic source and niche
User Interface:
Simple and friendly
Proof of payment:
Attached below (they are legit)
Verdict:
Excellent, rated 8/10
Contact:
Skype : popcashnet /
YM : popcashnet
Email: contact@popcash.net
radu@popcash.net
Popcash for Advertisers
Popcash is a perfect alternative to Google AdWords for advertisers. They are cheaper and advertising starts from as low as $5 among other offers. The following are some enticing Popcash features for advertisers:
Customizable Ads (you can design your own ads).
Many Ad formats and types to select.
Ads Geo-targeting.
Bid for specific sites you want your Ads to appear on.
Sending your Ads to targeted publisher website mail lists.
You can also promote your other listings from sites like Amazon, Ebay....
Get a throwback for invalid clicks.
Signing up as an advertiser on Popcash is free. Advertising will cost you as low as $5 and you will get other offers.
.
Popcash for Publishers
For web publishers (bloggers, website owners, ...) Popcash is one of the great ways to monetize you website or blog. When you paste the Ads HTML codes to your site or blog and each time a visitor to your website clicks on the Popcash Ads, you earn from the clicks and also from the impressions.
Popcash customize the Ads that show on your web pages to make then blend for greater conversions. There are many ad formats and types you can select from. The Ad types include banners, text-link ads, photo-text ads, interstitial Ads... including Email Pay-Per-Click Ads. Below is a toolbar earnings summary displaying the Ad types by Popcash.
Sign Up And Approval:
The Sign up process on PopCash is easy, anyone who has a website or blog can sign up on it. Popcash accepts almost all kind of websites except those which don't comply with their terms. You can read their terms on their website. They really quite have simple and liberal terms everyone can abide with.
Their Approval process is also easy as there are no much beaurocratic issues on PopCash. However, they review each and every website properly to maintain the network quality. Usually they review any website within 1 hour of submission but on weekends it may take up to 12 hours. It is also great at Popcash since even sites with low traffic get approved. And people don't have to click on your ads, as long as they visit your site. The ads will be served and you still earn regardless of clicks. That's how pop-under networks work literally.
In my case they reviewed my website within 1 hour of application and though I wasn't that serious then I reached payout and cashed it the following week. They paid in time (less than 24 hours).
.
Popcash Earnings, Payout & Payment Methods
PopCash processes payments on a daily basis. Usually all payments are made within 48 hours of request but it may take up to 4 days in some cases.
This ad network is great because it always pays on time. So, far i have never faced any delay in payments.
Recently Popcash reduced the PayPal fees, since now they make payments through mass payment options and as a result they now only charge $1 as fees on big payments where previously PayPal charged between 3-4% for each transaction. For example, if you request for a $100 payment, they charge $1 as fees and you get $99 in your account, which is pretty good.
I have even added a payment proof from them for your convenience below:
Popcash Payment Proof: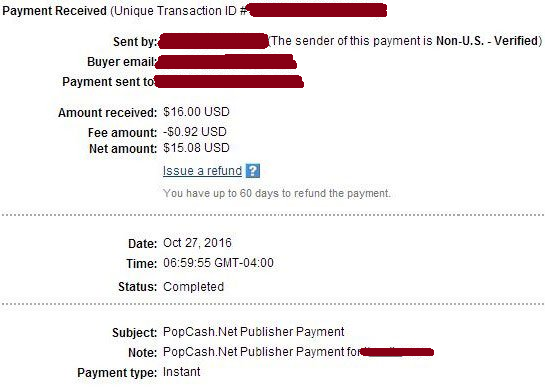 Popcash CPM Rates
Their cost per mile really matters with the source of traffic, bid price, niche of the advertisers, etc. You will notice that traffic from different countries bring in different CPM rates. Also certain advertisers pay higher than others because of competion for Ad space among other factors.
So what Popcash CPM rates may really vary based on a lot of issues at play. You can see an example in the report below:
Popcash vs Popads
If you want to compare Popcash vs Popads or any of its close competitors then I would recommend joining the networks an testing each service to determine what works for you.
On this I choose to go with Popcash over Popads tough a lot varies with a site owners' prefered choice.
Popcash vs AdSense
Gogle AdSense is way better that all other AdNetworks for publishers. However getting approval can be the toughest task with AdSense making others top alternatives a better option.
AdSense also pays better rates and serves many Ad forms compared to Popcash.
Why then would someone chose Popcash over AdSense? I would say it is for these reasons; first, approval is instant, minimum payout threshold is low ($10 while AdSense is $100), and lastly AdSense only requires sites with huge traffic.
You can read more about making money with Google AdSense here.
Popcash Pros
You can easily reach to earn your first ever income from internet
Popcash sign up process is really simple and anyone can join.
Popcash is a very popular network that receives a ton of traffic. They are in the top 300 sites in the world according to Alexa traffic rank. Popcash is a trusted network.
There are many withdrawal methods like Paypal, Payza, Paxum, ... that make it convenient to receive payments.
The minimum threshold is at $10 which is pretty easy to reach if you receive adequate traffic. May a few hours or days.
Publisher can monetize traffic from any country
You get to enjoy daily payment cycles meaning even if you reach the minimum payout today you can withdraw your earnings. No need to wait until a certain date to be paid.
Popcash Cons
Well, Popcash is a very good CPM Ad Network however as they say, "there is no rose without a thorn." Here are a few disadvantages that come with Popcash:
They only serve pop-under ads thus limited earning opportunities.
Their rates may sometimes not compare to the bigger boys like Google AdSense
VERDICT (Is Popcash good?)
Finally is Popcash good?
It can be concluded that if you just want a pop-under network, then Popcash is the go to service. However there are better networks like Google AdSense for example that may pay better since they get higher ad space bidders. But getting approval can be quite high. Based on your own comparison you can tell whether you want to stick with them or try other networks.
All in all, Popcash is good. One of the best CPM network for many reasons. Based on this review, I would rate them a 8/10.

.