What is Covered in this Liquid Web review?
Liquid Web Shared Hosting Review
Liquid Web VPS Hosting Review
Liquid Web Dedicated Servers Review
Liquid Web Pros and Cons
Liquid Web Webmail
Liquid Web Control Panel
Our Liquid Web Review Objective
This Liquid Web review 2019, reviews key web hosting features, plans, and current Liquid Web discount deals. At the end of this Liquid Web review, you should be able to make up your mind whether to start or continue hosting your website with Liquid Web. This Liquid Web review is independent and this website is not owned by Liquid Web neither is this review an outright endorsement of Liquid Web services but rather an analytical look into Liquid Web as a web hosting provider.
Liquid Web Hosting Review 2019

Liquid Web was founded in 1997 by Matthew Hill and they currently host over 1,000,000 websites around the world. They are well known for their fully managed web hosting services.
Liquid Web Review
Founded:
1997
Lowest Plan Price:
$29.50/mo
Rating:

Average Rating 4.9/5.0 ★★★★★
Features 5.0/5.0
Pricing 4.7/5.0
Support 5.0/5.0

Reviewer:
TopHostingNet.com
Expert Rating:
4.9/5.0 ★★★★★
Website:
www.Liquid Web.com
Contact:
24/7 Phone, Chat, Twitter, and Email Support.
FTC Disclosure: Some services mentioned here pay us a commission in addition to giving you a promotional price when you sign up for their services. Thanks for your visit and support.
Liquid Web Review
Liquid Web is a top managed web hosting service provider in the world. Their primary advantage in the business is their fast secure servers that are fully managed in the highest level.
All Web hosting companies basically sell the same thing – a server for your weblogs – and each host offer different plans with different caps, bonuses, and prices. For most, figuring out their true value requires a breakdown of the web hosting packages offered.
Comparing "apples to apples" among hosting companies, it is advisable to break things down into Core hosting and Bonus hosting features.
The Core hosting features are the "3 D's" – domains, databases and disk space. The core purpose of a hosting server is to serve website files when someone types in your domain name.
Domains are the number of domain names you can point to your hosting account. If you want multiple websites, you'll want to have multiple domains allowed. You'll also need to look at email addresses per domain – sometimes those are capped as well.
Databases are the number of website software you can run on your hosting server. A WordPress install for instance will require one database. If you have any apps, forum software, ... etc – you'll need more.
Disk space is the number of web files you can put on your server – images, text, videos, ebooks, etc.
Bonus hosting features could include anything from website builder software to advertising credits to backend software,... you name it.
When you break it down, you can at least compare apples to apples and get a sense of value based on what you need verses what is offered by a web hosting provider.
Here we review Liquid Web hosting packages and their pricing dynamics to help you get just want you want:
Plan Pricing
You have to accept the fact that almost every host will sell you some additional items at checkout. Most of them if not all are usually things you can buy later-on as your site grows so normally there is no pressure to purchase them immediately if you do not have the funds in your budget. However some are normally important like backups and SSL certificates, so if they don't come FREE it is important to add them.
When it comes to pricing just like any other web hosting service, if you want to save you need to subscribe for longer periods.
Liquid Web Review: Managed WordPress Hosting
Almost everyone now uses WordPress to power their site. This package is definately suited for WordPress lovers and die-hards alike.
We recognize that companies who sites are powering their business know their success is tied to more than just infrastructure. They want a team who is always on, always vigilant and always there to help. That's Liquid Web...they're your team. Monitoring your servers, mitigating risk, optimizing performance. And if you need support, with one of their technicians you get it quickly and on your first contact with no further delay. Everything Liquid Web does is about being that partner you can trust. That's why Liquid Web is the most loved managed hosting provider in the industry with a leading NPS score of 71.
Liquid Web simply offers great WordPress hosting. Below are goodies to take to bank on Liquid Web's Managed WordPress hosting plan:
Fully Managed WordPress: Liquid Web takes care of updating WordPress for you so you don't need to. Stop dreading those releases. They've got your back.

What does "Fully Managed" mean?

Having a Fully Managed product, or service, means that Liquid Web don't just create your server and leave the rest to you. Their teams are there to assist on your journey as you need help. Fully Managed support means that they will help handle software updates, security patches and the LAMP stack.

That means they will manage the core infrastructure, so you can focus on your website and business. It's just that simple. Liquid Web's highly trained staff is ready to manage your hardware, web server and even offer best-effort support for third-party software.

Full Server Access: Most hosts limit the type of access to the server. Instead Liquid Web gives you full access to both the database and the server.
FREE WordPress themes and plugins
Unlimited Email accounts
Advanced Security: Malware can quickly destroy any website, and in turn destroy a business. WordPress websites are some of the most targeted by hackers. This is because of the seemingly unlimited number of themes, plugins, and customizable options WordPress has. Liquid Web WordPress hosting includes a malware scanner which will automatically search your website and quarantine any malicious files it finds, keeping your website, and your business, safe.
Superior Speed: Liquid Web has high-performance managed WordPress servers built specifically with WordPress in mind, allowing your sites to run faster and more securely than ever before. With SSD drives, a global CDN, optimized CloudLinux, VPS power, Advanced NGINX architecture, Custom PHP-FPM configuration, Liquid Web servers will make your WordPress websites run better than you ever thought possible.
WordPress Specialized Support: Liquid Web specialized team of WordPress experts are standing by to answer any questions you have about your WordPress website, day or night. They will do everything they can to make sure your WordPress website has the online presence it deserves. Having trouble getting a theme working? Need help installing your new plugins? Whatever it is, they are there to help you out!
Unbelievably Simple: Liquid Web has integrated key features and built tools that make it a breeze to run WordPress.
Instant Provisioning: you have your server is up and running in seconds.
Guaranteed Resources: Using KVM hypervisor, your resources are always assigned to you alone and never impacted by others.
Backups: Every plan includes dedicated backup storage and Liquid Web automates backups of your WordPress websites ensuring your data is always safe.
Dynamic Upgrades: Instantly add more CPU, RAM, and SAN storage on the fly as needed in just a click.
Custom Technology: Liquid Web only uses the best hardware, all built and managed in-house by experts to deliver the best performance.
Managed Multiple Sites with Ease: Liquid Web has made a partnership with iThemes to provide offer iThemes Sync Pro. With it you're able to:

Monitor site uptime/downtime
Track and View Google Analytics Data
Check the SEO status of posts
Control what clients see in wp-admin

With iThemes Sync Pro, you're able to manage all of the sites you run from a single location.

No Pageview/Traffic Limits: Tired of getting charged for pageview counts or overage fees? Liquid Web never charge for pageview counts or overage fees
Automatic SSL: Every single site you order from Liquid Web comes with its own SSL certificate without any additional cost to you. No configuration, no hassle.
Staging Site: It's important to test your site prior to going to live. You get a staging site to be able to do any testing prior to making any changes live.
Around the Clock Support: Many hosts lock you into a ticket system. Liquid Web team of experts are available around the clock 24/7/365 by phone, email and chat.
More than WordPress: They don't just do WordPress. Got a project that needs a database server or special application? Liquid Web can work with you to build something unique.
Why Choose Liquid Web Managed WordPress?
Liquid Web has engineered the best WordPress hosting platform to making hosting simple. They will focus on the hosting infrastructure and you can focus on growing your website. Find out what makes Liquid Web the best choice for your mission-critical WordPress sites.
No overage fees, traffic limits, or metered pageviews.
Worry free automatic plugin updates with visual comparisons.
Image Optimization plugin included to improve page-speed!
NOTE:The prices below reflect the discount offered today.
Plan Pricing
| | | |
| --- | --- | --- |
| Duration | Price | Total |
| 1 Month | $34.50/mo | $34.50 |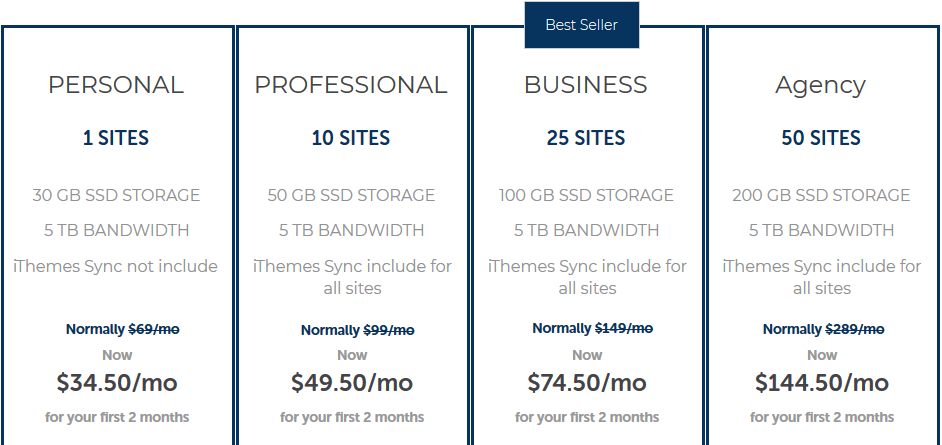 Disk Space
200 GB SSD
Site Bandwidth
5 TB
SSL
FREE
Liquid Web Review: VPS Hosting
VPS is the heart of web hosting and Liquid Web offers affordable VPS Hosting with cPanel support. VPS Servers are perfect for literally every website.
Liquid Web has a well managed support team to assist you with installation and other issues related to essentials like MySQL databases, Apache, Webmails, ... anything you may need relating to your site's hosting needs.
Besides their offers above, here are some other notables in their VPS hosting:
Fully managed support
Predictable monthly costs without overage charges
Easily scalable as demands increase
Extensive security and mirrored storage for data protection
Free cPanel/WHM ($425/year value)
Free Softaculous
Free Setup
Free Website Migration*
Free Firewall
Free Reseller Account
Unlimited cPanel Accounts
Unlimited Domains & Subdomains
Unlimited Email Accounts
Unlimited Email Sending
Unlimited MySQL Databases
Unlimited FTP Accounts
Upto 4 Cores CPU
From 40 GB upto 200 GB Storage
Upto 10 TB bandwidth/transfer
From 2 GB upto 8 GB RAM
Plan Pricing
NOTE: The prices show a special discount deal today for the lowest package
| | | |
| --- | --- | --- |
| Duration | Price | Total |
| 1 Month | $29.50/mo | $29.50 |

Site Storage
200GB SSD
Site Bandwidth
10 TB
CPU
Upto 4vCPU
Liquid Web Review: Dedicated Hosting
There are lots of reasons one may need a dedicated server. Mainly it may be because you've outgrown your previous host or know you have larger-than-average needs like for instance an eCommerce store or a rapidly growing site with large traffic. If that sounds like you, Liquid Web is the place to be without breaking the bank.
Liquid Web dedicated servers are built on in-house cloud technology, thus ensuring a fast and flexible dedicated server with instant setup and seamless migrations.
Otherwise if you are not sure if you need a dedicated server, you better go for a VPS server then you can upgrade in future to a dedicated web hosting plan.
Liquid Web doesn't charge additional fees if you go over your plan, because they too get it that no one wants to be punished for getting popular.
Their dedicated hosting is fully managed. That means you get support with the little techy stuff like configuring MySQL databases, Apache, Email, DNS, ... you name it. You do not need to hire anyone to do these things.
Fully managed support: As a Dedicated customer, enjoy direct support from specialists who know Liquid Web most powerful servers best. Call the exclusive support line anytime, 24/7
Extreme Speed: Each server is custom built in-house by their engineers using only the latest technology. Their use of open source technology, like OpenStack, gives us the flexibility to upgrade performance over time.
Instant Provisioning: Whereas most dedicated solutions take hours or days to activate, Liquid Web technology allows provisioning of dedicated servers immediately. Your server is standing by so it's ready for you the second you need it.
RAID Storage: Liquid Web uses only high quality storage with RAID level 1 support on their dedicated servers. Your drives are completely mirrored, ensuring your data is extremely well protected. This feature is not found on most dedicated solutions.
Storage Upgrades: Add hosting storage on the fly as you need it. With the enhanced cPanel, you can increase available storage space in real time without requiring admin intervention.
Root Access: For advanced users, Liquid Web offers improved control panel with optional root access, giving you full control of your server.
Predictable monthly costs without overage charges
1 TB Storage
10 TB Bandwidth/Transfer
From 4 GB upto 64 GB RAM
Plan Pricing
NOTE: The prices show a special discount deal today for the lowest package
| | | |
| --- | --- | --- |
| Duration | Price | Total |
| 1 Month | $79.98/mo | $79.98 |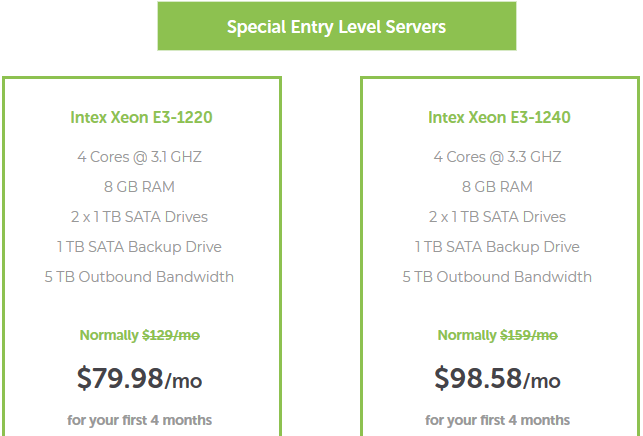 CPU
24 CORE
Site Storage
1TB
Site Bandwidth
10TB
RAM
64 GB
Liquid Web vs iPage, WebHostingPad & BlueHost
How does Liquid Web compare to other affordable hosts. The likes of iPage, WebHostingPad, and BlueHost? The table below gives you a brief comparison of the key hosting features from each company:
Liquid Web
iPage
WebHostingPad
BlueHost
Domain

Free

Free

Free

Free

Accounts

Unlimited

Unlimited

Unlimited

Unlimited

Disk Space

Unlimited

Unlimited

Unlimited

Unlimited

Bandwidth

Unlimited

Unlimited

Unlimited

Unlimited

Databases

Unlimited

Unlimited

Unlimited

Unlimited

Emails

Unlimited

Unlimited

Unlimited

Unlimited

MoneyBack
Guarantee

30 days

30 days

30 days

30 days

Shared Hosting

$3.74/mo

$1.99/mo

$1.99/mo

$2.95/mo

WordPress Hosting

$34.50/mo

$3.75/mo

$2.99/mo

$12.49/mo

VPS

$29.50/mo

$19.99/mo

$29.95/mo

$19.99/mo

Dedicated

$75.98/mo

$119.99/mo

–

$79.99/mo

Reseller

–

–

FREE with VPS

–

Support

Excellent

Excellent

Excellent

Excellent

Start
Liquid Web Pros
Here are some of the pros of Liquid Web web hosting service:
Fully managed hosting
You get a free domain name for a year included with your purchase.
The security features on Liquid Web are just excellent.
Numerous databases available, including MySQL, PostgreSQL, CGI-BIN, PHP, Python, Perl, Ruby on Rails, and much more.
Tons of free website scripts are available, including social networking scripts, blog support, mailing lists, message forums, Joomla and Drupal and Tikiwiki.
Most customers report that Liquid Web is fast. Integrate with CloudFlare, and you'll get even better performance.
Liquid Web Cons
Shared Hosting: Liquid Web does not provide for cheap shared server plans that very small beginners may need.
Installing Your Favorite CMS to Liquid Web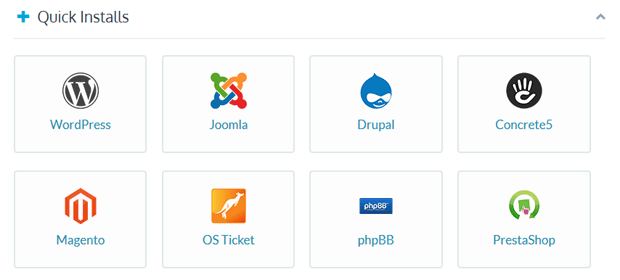 Liquid Web's Quick Install tool enables you to automatically install your favorite software to your domain. This tab contain the most used content management, blogging and eCommerce platforms (WordPress, Drupal, Joomla, Concrete 5, Magento eCommerce, OS Ticket, phpBB Forum, B2Evolution blog, PrestaShop eCommerce). If you prefer other software, just click the QuickInstall icon in the control panel and you will be able to choose from hundreds of software including Moodle, ZenCart, Sugar CRM, Modx, Nucleus, Typo 3, Xoops, MediaWiki, and many others.
This tool will help you to install the latest version of many software with just few clicks. It will save you time and effort, because you don't need to manually create the database and upload the files to your server, everything will be done automatically.
Is Liquid Web good for WordPress Hosting?

Are they actually good for WordPress hosting? From our tests, it resulted that Liquid Web is a good hosting service for WordPress sites. It is obvious that they offer managed WordPress service, and the shared hosting plan is not for high traffic websites. Smaller, medium to large sites built with WordPress receiving lots of visitors daily will have a very good performance with Liquid Web.
What are the advantages of WordPress hosting over shared?
Unlike shared hosting, WordPress hosting server environment is normally designed specifically with WordPress in mind. This means you can enjoy faster page load times (up to 1 second faster), a higher level of protection against WordPress-specific attacks, and automatic WordPress updates. A safer, faster site makes everyone happy!
What Control Panel Platform Does Liquid Web Use?

Your hosting account is managed through customized cPanel control panel. After your first login into your Liquid Web hosting account, you can choose cPanel to manage your websites, emails etc. It is the same cPanel that you are used to using on other cPanel hosting providers, with all the same features, just a bit customized by Liquid Web.
How to use Liquid Web's Website Builder?
When you access your Liquid Web account for the first time, on the main screen you will be asked to choose between cPanel hosting or Website Builder. If you want to install WordPress or other CMS to your site, you will need to choose cPanel, however if you choose to create your site using the drag and drop site builder tool, you will have to select the Website Builder.
Once you have selected the Site Builder, choose the domain you want to build the site on and click to proceed. Choose a template that you like and fits your website category and start editing. Upload images easily, add text, create pages, insert image galleries, buttons, headings, navigation and more. The process is very simple, no programming is required to create the layout you want, just simply drag and drop the necessary elements to your template.
Liquid Web: cPanel or Website Builder?
Because we have received few emails from our readers regarding this question, we decided to add some extra information to this review. As stated before, Liquid Web offers multiple ways to build your website.
One of their option is the drag-and-drop website builder. This option is ideal for those users who are starting out with their first website. This tool does not require any skills of programming or web design. You can choose a template from the thousands of designs and adjust it to your personal needs. When you are done with the editing, with a press of a button you can publish the website to your domain. If want to modify your site, you can return anytime to the builder and make the necessary modifications. It is very simple to use.
Another option to create your website at Liquid Web is to use WordPress, or other similar content management system. As mentioned before, WordPress is also a very simple and easy to use software. With WordPress you can build more complex websites and expand them in the future. The website builder is limited compared to WordPress.
So which should you choose? If want to quickly set up a nice looking website and don't really want to further develop it, you should choose the Website Builder, otherwise you should go with cPanel.
Does Liquid Web Offer Free Webmail Access?
Liquid Web is a well-known hosting company that offers various services from domain registration through web hosting service to email hosting.
Often we run into the same question, so we wanted to clarify this. We have been asked if Liquid Web offers webmail access. In short, Yes! Liquid Web does offer access to webmail through their platform.
What is Webmail and Why Should You Use It?
Liquid Web hosting services offer lots of features to its clients, including webmail access. The Webmail is a web-based email solution, which allows the user to access email account through a web browser.
In most of the cases people choose to send and receive emails using an email client such as Microsoft Outlook, Thunderbird, Opera Mail or other. But setting up an email account with your favorite email client is normally a long and tedious task. For instance, if you are using multiple devices for work and want to have access to your email on each device, you will need to install the email client and setup email on each and every device. The webmail application just saves you from all the hassle, and grants you access instantly to your emails.
With Liquid Web webmail you will be able to perform the same tasks like with any email client. The only difference is that you will be able to read and write email from your web browser. You will also have to remember your email address and password in order to login from FireFox, Chrome, Opera or your favorite browser.
So if you want to have access to your emails on the go, a webmail is definitely a good solution to read and send emails securely.
The main advantages of using WebHostingHub webmail are:
A more personal image: the WebMail allows you to have an email address using your domain name. Stand out from the Gmail and Yahoo crowd by giving yourself a unique, memorable email address at your own personal domain. For example, John@JohnDoe.com.
Protect your information: WebMail protects your credit card information, social security number, address, and other private information from falling into the wrong hands. Its advanced filter protects your identity from hackers, potentially saving you thousands.
No invasion of privacy: Free email providers like Gmail and Yahoo scan every word of every email that you send and receive, then they sell that information to advertisers. Have peace of mind knowing that your emails stay yours, and yours alone.
No phishing or spoofing: Free email accounts are targeted daily by hackers who try to trick you into giving up your most sensitive information. Liquid Web WebMail blocks these threats to stop them from ever appearing, leaving you with an inbox of only the email you want to see.
Available Webmail Clients at Liquid Web

When you first access Liquid Web webmail application, you will be asked to choose a webmail client. You can choose from Roundcube, Horde or SquirelMail. Amazingly, you can choose a different webmail client every time you login to your account, or you can opt for the autoload function if you already have a favorite.
Roundcube: is the most popular webmail client used by Liquid Web clients and has the same look and feel as any other email application. You can import and manage address book and can organize folders too. Writing emails is also simple with the rich text html composer and spell checker.
Horde: is the complete solution for managing emails, calendars, notes and tasks. Its main feature is however the collaboration App which enables you to share calendars, notes and tasks with your colleges, who certainly have to use Horde also.
SquirelMail: is the simplest webmail client you will find out there. Unlike Roundcube or Horde, this email client has fewer features. Comes with a user-friendly interface and offers more customization options than the other two.
IMAP or POP3 – Which Protocol Should You Choose?
Using webmails is a great option for accessing your emails from anywhere; however you might also want to have an email client on your main computer, which you use most for your work. And if you want to setup your email to Thunderbird or other email client, you will need to choose a protocol.
When you send an email, the message will be stored on an email server. You can setup up the email application to retrieve email from the email servers using two different protocols: POP3 or IMAP. This causes much confusion among users, mainly because they can't decide which protocol to use.
IMAP: this setting allows you to access your email on multiple devices. Multiple users can also access the same email account. Meaning if someone reads, replys, forwards, deletes or manages your emails, the changes will be saved to the email server and will by synced with all email clients that are connected to such an account via IMAP.
POP3: this configuration allows you to access your email on only one device. Most email clients that are setup with POP3 will delete messages from the server, and will only be stored on the device where your email client is installed. You should not use this protocol if you want to have a saved copy on the email server, where you can access your emails whenever you need it.
Potential Problems with Email Client or Webmail
Liquid Web is a reliable hosting provider and most of the time everything works perfectly. However, due to technicalities you mat not be able to send or receive emails from both your email client and webmail. This may be caused by several factors like:
Maximum Email Numbers per Hour: by default, Liquid Web limits each customer to send a maximum 150 emails per hour. In a day-by-day situation, when sending out business emails, this number won't be a problem. But if you send out an email to your email list, that contains more than 150 recipients, you will get notified by the system, that you exceeded the maximum amount of emails. If you have more than 150 email subscribers, you can split it in multiple lists, and schedule the emails to different hours. Forwarders can also cause similar problem. So always check these two before contacting support. If you would like to increase the number of emails you can send per hour, you should contact support and give them details why you need a cap increase.
Email Can't Be Delivered: there could be multiple reasons why you will get this error message when trying to send an email. Either your web space is possibly full, and can't save the email to the email server, or the email address you are trying to send does not exists. For the latter, the email will bounce back as undelivered.
Email Server is Down: due to technical problems sent emails can queued up on Liquid Web's mail proxy server. In this case you should wait couple of hours for the email to be sent out, before you try re-sending.
All in all, Liquid Web offers feature-rich services when it comes to webmails. Their webmail application will make it easy for everyone to access and manage their emails from anywhere in a securely manner. If you are looking for a reliable hosting that offers an easy to use webmail App, Liquid Web should obviously be on top of your list.
Liquid Web Domain Transfer and Privacy
If you want to transfer your domain to Liquid Web you should get in touch with the support, because they have to initiate the domain transfer for you. If you want to move your domain out from Liquid Web, first you should find another hosting provider or domain registrar to move the domain to. You will need the domain to be unlocked and to get the EPP key, which can be obtained only from Liquid Web's billing department.
If you want to hide your personal information on your domain whois, it is a good idea to purchase domain privacy. You can find this service in your Liquid Web control panel.
Liquid Web Security Features
Security is an area where Liquid Web excels. You get three layers of anti-spam protection in the form of Spam Experts, Spam Hammer, and Apache Spam Assassin. You get protection for your inbox as well; it is easy to set up filters. Your directories are all password-protected.
If you need to block access to your site, you have the option to blacklist IP addresses. Another top-notch feature is secure shell (SSH) access. This allows you to access configuration files individually and securely.
Liquid Web also offers single-click integration with CloudFlare, which provides even more excellent security features and speeds up your site! CloudFlare is particularly good for thwarting DDOS attacks.
What Payment Methods does Liquid Web Accept?

You can buy Liquid Web hosting plans using a credit or debit card (VISA, MasterCard, Discover, American Express). ** Credit/Debit card payments are preferred. You can also make payments with PayPal. Some electronic cards may also work, but prepaid and gift cards are not accepted. At the time of writing Liquid Web does not accept payments in cash, bank wire transfer, Moneybookers (Skrill), Webmoney, AlerPay, Bitcoin and/or other similar payment methods also miss as payment options.
Who is Liquid Web Best For?
Customers who are looking for a reliable web host with a strong reputation. Liquid Web is one of the oldest names in the business and has established trust.
WordPress customers who can pay extra to get access to more features and a dedicated support team of WP experts.
Owners of both large and medium sized businesses. Liquid Web is fine if you are on a budget compared to other costly high-end hosting services out there.
Is Liquid Web Eco-Friendly?
Liquid Web servers are powered by wind energy making them eco-friendly. For those of you who like to conserve our environment, Liquid Web Hosting has you covered.
Liquid Web Support
The Liquid Web customer support are World-class and well committed to supporting every client at every step of their needs. They offer a hand-ons approach in technical assistance especially in the web creation and maintenance areas.
They can be contacted 24/7 via Phone, Live Chat, and email. Their response time is less than 20 seconds.
Overall Rating

4.9/5.0 ★★★★★