THN
Here ➨ we take a look at Elitebet Bonus offers, registration bonus link & refferal bonus Commissions in this review, the steps for claiming each bonus offer, and other fine details you need to know about their betting platform and market extras. Plus we also introduce you to their invite only referral program where you can invite your friends and get paid by Elitebet Kenya. If you find this page useful, kindly bookmark or share it on social media below. Your comments are also welcome in the commenting section below or you can contact us with any burning issue. Ready? Here's a brief Elitebet Kenya review: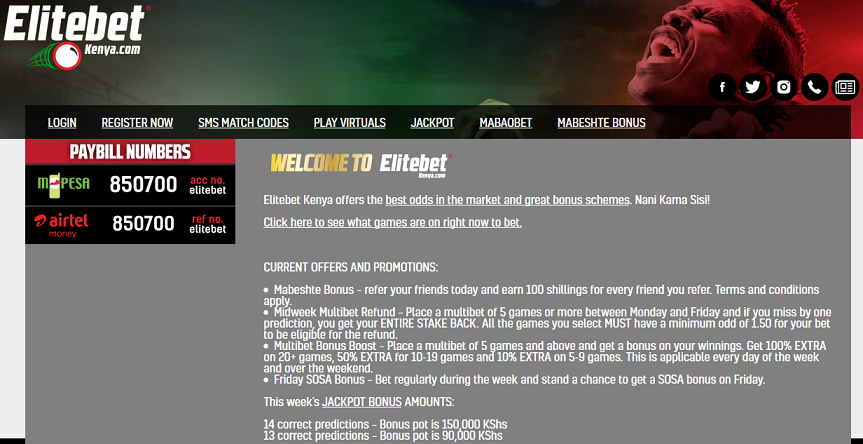 Main Catch:
Mabao bet, Stake as low as Ksh 1, & play Jackpot for Ksh 50



Instant deposits and FREE Online Withdrawals
High returns Mabao bet where you bet on GOAL-GOAL multibets
Betting Bonus Gifts upto 200 KES when you first join and deposit 50 KES.
100% bonus on a winning multibet of more than 20 games.
50% bonus on a winning multibet of 10+ games.
25% bonus on a winning multibet of 5+ games.
Bet Refund bonus for multibets of 5+ on weekday matches if you lose by only one match.
Cheapest Jackpot at only Ksh 50
Great SMS betting platform
Elitebet Kenya is one of the oldest betting sites in Kenya. The reason they are not very popular is perhaps because of their low key promotion/marketing strategy; you hardly see them advertising around. Nonetheless they have a steady business and have opened branches across Africa which includes countries like Uganda, among others.
There website is pretty laid-back but of late it is very clear they are making necessary changes to try and improve user experience so as to compete effectively with the big boys. For that reason, be sure to check out new upddates on this betting site as they carry on revamping their platform. Elitebet is one betting site you should try out soon.
Cashout
No

Jackpot
Yes

Live Betting
No
Elitebet Registration

To register at Elitebet Kenya is pretty simple. Apart from just signing up, they are going to give various gift offers amounting to Ksh 350 today. All you have to do is to register through this special link then bet with over Ksh 50 and voila, the bonuses will be activated on your betting slip. It's that simple.
Below we take a keen look at all the Elitebet bonuses on offer this period.
List of All Elitebet Kenya Bonuses
It is important to note that the bonuses require you to wager certain amounts to clain. Upon registration you will receive various segmented bonuses towards your betting account amounting to highs of Ksh 350 depending on the promotion link you use at sign up. We have given you some of the coolest links to use below.
So to redeem the Elitebet bonuses, you need to bet at least Ksh 50. Then while placing your bets on the bet slip, you will see all the bonuses that you can redeem appear. For example, there is a bonus that gives you free Ksh 50 when you bet Ksh 400 and above. Suppose you choose to redeem this offer, you will place a bet worht Ksh 450 instead of just your initial Ksh 400 stake. *You will see how these Elitebet bonuses work onsite after you register from our special links on this site. They are pretty simple and straight-forward.
Here is a list of all Elitebet Kenya Bonuses:
Elitebet Kenya Sign Up Bonus

If you are looking for great sign up bonuses in Kenya, you can also try:

SportyBet – you will get bonuses amounting to Ksh 1000 when you sign up and make a first deposit of Ksh 50 and above.
– you will get your first deposit doubled upto Ksh 10,000 when you sign up through the link. For example, if you join and make a first deposit of Ksh 2000, you will get another Ksh 2000 free in your betting account (T&C Apply).
BetWinner Kenya – you will get 100% first deposit Bonus upto Ksh 15,000 when you sign up through the link. For example, if you join and make a first deposit of Ksh 1000, you will get another Ksh 1000 free in your betting account (T&C Apply).
GameMania – you will get bonuses amounting up to Ksh 2000 instantly when you sign up and make a first deposit of at least Ksh 100 and above.
1xBit – you will get upto 100% Bonus in cryptocurrency upto 7 Bitcoin when you sign up through the link. For example, if you join and make a first deposit of 0.01 Bitcoin, you will get another 0.01 Bitcoin free in your betting account. This is the first site that accepts deposits, withdrawals and betting using your cryptocurrencies (T&C Apply).



Elitebet Kenya Multiple Bet Bonus Boost

Multibets can really reward you well if you get it right. Elitebet Kenya offers you a chance to earn up to 100% more on your winnings when you bet on multiples. For example, suppose you bet 1000 KES on a 20-game multi at odds of 15.00, your total winnings would be (Ksh 1000 x 15.00) = Ksh 15,000. What the 100 percent Elitebet bonus boost on multibets would do is give you an extra 100% bonus on your winnings. That is Ksh 15,000 + (15,000 x 100%) = Ksh 30,000 as total winnings. If you use other sites, you would only get Ksh 15,000 for your multibet win.

The only site in Kenya that we found offering better multibet bonuses at 135% is SportyBet.



Elitebet Kenya Mabao Bet Bonus

Elitebet mabao bet bonus feature enables you to place bets only on Goal-Goal outcomes and earn more as the number of selections increase. To accesse the Elitebet mabao bet feature, just login to your account and click on Maboa bet option on the menu. Below is a figure with the bonus odds offered for mabao bet correct combinations:



Elitebet Kenya Multibet Refund Bonus

This Elibet bonus will give you back your total stake if you bet on a multibet of at least 5 matches with odds at over 1.5 during the weekday, if you only lose one match.



Elitebet Kenya Friday SOSA Bonus

This Elitebet bonus only requires you to bet regularly during the week and stand a chance to get a SOSA bonus each Friday. If you placed bets during the week, you rest assured to receive free bonus cash in your Elitebet account regardless of whether you win or lose your bet. You can withdraw this money or use it to place other bets.



Elitebet Kenya Jackpot Bonus

Elitebet Jackpot is only worth Ksh 50 and you get various bonuses for other correct predictions.

View Current Elitebet Jackpot Bonus Amounts here »


Elitebet Kenya Mabeshte Bonus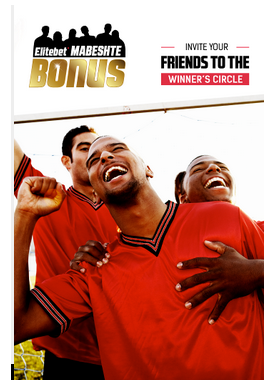 Their referral bonus gives you Ksh 100 commissions on every successful referrals you send to them. You can make good amounts each month if you are serious. Refer your friend(s) and receive money when they start at Elitebet! If they bet 1000 bob in the first 31 days in total on minimum 1.5 selection prices each, or have 2 Jackpot bets, you get 100 bob, as soon as the bet(s) are confirmed!
Mabeshte Bonus Terms and Conditions
This refer a friend programme is started on 23 August 2017 and is valid until 31 July . The mabeshte scheme has been replaced and bonuses are calculated according to these new rules from 23 August
An eligible bet by your freind has a minimum price of 1.5, OR two Jackpot bets. Eligible bets must be placed within 31 days of being referred by you.
The 100 KSh bonus is applied a minimum of 1 hour from the time your friend places his or her full 1000 KShs on eligible bets.
You cannot refer a friend that is already a registered member of ElitebetKenya, nor one who has already been referred.
You will be eligible to earn 100 KShs for each new customer who bets 1000 KShs on eligible bets.
The refer a friend programme is limited to 100 referral friends every 28 days.
Only ElitebetKenya registered members with placed bets of at least 10 KShs are eligible to participate in the refer a friend programme.
Members must be over 18 years of age.
Oxygen8 East Africa and ElitebetKenya staff members are NOT ELIGIBLE for the refer a friend programme bonus.
The promoter, Seal Capital Partners Ltd,, is a company incorporated in Kenya which is licensed by BCLB (Betting Control and Licensing Board of Kenya) under the Betting, Lotteries and Gaming Act, Cap 131, Laws of Kenya under License n. 820.
How to Refer Friends to Elitebet Kenya
Unlike other referral systems at other betting sites in Kenya like SportPesa which give you a one-time bonus of Ksh 100 when you refer your friends, Elitebet's is kind of different. They will pay you 20% of what your friends bet for as long as they stay with Elitebet. For instance, if you refer 10 friends who then bet Ksh 1000 each in a particular month, you will earn (1000 X 20/100) of 10 = Ksh 2000 as commission that month.
However, not everyone is accepted into their referral program as they only work with people who seam serious. You have to prove that you are serious.
Here's a tip though, if you sign up through this special link and fill out your profile accurately as they will use this to pay you. From there you will need to wait 2-5 days for the review, but if you used the link above you will receive a notification the following day (less than 24hrs).
If you used our special link, you are almost guaranteed they will accept you. Once accepted, you will need to complete your profile with accurate information with how you want to be paid ranging from M-Pesa, your betting account, or bank. You will need to enter your details correctly in order to receive your commissions each month.
NOTE: Terms and Conditions apply to all the Elitebet Kenya bonuses mentioned above. Make an effort of going through them to understand how they work.
Betting markets and odds quality 5/10
So right off the bat you are going to get a very simple and straight forward soccer sportsbook at Elitebet Kenya. That can be seen as strength though because you are just going to remain focused on betting on football. The betting margins are nonetheless lower at Elitebet Kenya, you are looking over 15% though on the football markets but in general the sportsbook averages out at about 11.5% for the betting margin. This is very bad and there is a maximum winnings per day with them (maximum odds of 1000) if you compare them with the one of the biggest odds bookies in Kenya like SportyBet.

It is not one of the most extensive, most value packed sportsbook out there that you will find in Kenya, and it holds its own sort of the early bird title. The top markets are clearly football and as a note, there is no any other sports on the site. Nor greyhounds, horse racing, tennis, rugby, basketball … you name it. So if you are looking for that, you will be very disappointed here.
Landing on the homepage you get a list of popular football bets. That aside you have to dig through their sportsbook menu to find a future market, mostly served up to 3-5 days ahead. Another place they come in short as other top bookmakers give you future markets even for the whole season to bet on. If you want a better future market betting site, try SportyBet or even
As for summing up the value, it's not bad, lots of spectacular features like Mabao bet, football jackpot, SOSA bonus. But it is hard to pinpoint clear area where they are going to put a strangle on the major bookmakers. Another low for them is that they do not offer in-play betting as well.
Elitebet Kenya sign up bonus, free bets & current promotions 4/10

There is actually a very nice welcome bonus available at online betting site Elitebet Kenya as they will give new customers free bets for various actions as you have seen above. Open an account with Elitebet Kenya, deposit and place a bet for the first time and get the free bets token in return while placing your bets. Check the terms through because deposits through some sources, won't qualify for the promotion.
The bonus must be claimed by placing a bet with deadlines for claiming the bets. If you think that by just registering you will get an absolute free bet, sorry. It doesn't work like that. They keep offering great bonuses than most bookies in Kenya, thumbs up.
New Customer Offer, T&C's apply, 18+. Please Gamble Responsibly. See details directly at Elitebet Kenya.
In-play betting 2/10

So you do get live in play betting with them and you can see a glimpse of what is happening on the home page in their Live Betting section. You can switch between different sports as well to see what is going on and from that main start you can see the number of markets that are open for a particularly football match for example. The bigger the game the more market you're going to find open, but even obscure matches get decent coverage with over 30 markets live usually.
As you can probably imagine, the live in betting on a particular market is straightforward. There's a little graphic depicting the flow of action and a nice touch is that you can filter the live markets to like the Main ones or the Goals markets with one click. One thing of note that is a big plus for betting at Elitebet Kenya is that you can switch between the Event View or Asian View, because they do offer live Asian handicap betting, which is a huge, huge plus in terms of value for punters. Their live betting is quick and easy to use.
Extras & features 8/10

You are limited with extra features really. The Live In Play Betting section which has Asian Handicap betting in it, is a huge deal and a massive feature for anyone who likes both of those features. That is one of the real highlights about Elitebet Kenya and their sportsbook. There is good links to statistics and you get the usual results and live results running as well. That is pretty much the sum of their extra features really. Their whole ethos is to keep things simple and that is what they do and that is what you, as an end customer, will get.
They do also run a one wallet system where all your money is sat in one place no matter if you are running on their sportsbook or their virtual games. Elitebet Kenya also runs a Jackpot as well. They have one of the easiest Jackpot in the market with only 11 matches to predict and various bonuses for 10 and 9 winning combinations.
Elitebet Kenya payment options – deposit and withdrawal methods 9/10

There is plenty of options for deposits and withdrawals at Elitebet Kenya. Both are instant. You can deposit and withdraw directly on-site just a click away. You have the Mpesa and Airtel money options along with other options. A lot of the payment options can be done through your mobile as well on-site.
Deposit Methods Include: Mpesa, Airtel money.
Withdrawal Methods Include: Mpesa, Airtel money, and bank (for large sum withdrawals).
User-friendliness of website & mobile app / mobile version 4/10

The website actually has a laid-back, non-user friendly feel about it all. It's actually pretty frustrating to be on and laborious to browse around looking for matches and odds. Worse off would be accessing the site via mobile, the betting market selection dropdown menus really make it a bad experience and for phones with smaller screens and processors, this site keeps crashing before selecting a bet. The site operates quickly though on larger devices and if you aren't worried about big features then that is a real plus.
We also did not find a mobile application by this bookmaker something they seriouly need to work on. For a better betting platform, you should think SportyBet or
Elitebet Kenya Customer Service & Support, Security & Reliability 8/10

They push their online live chat portal strongly so that will be a good port of call for you should you want to get into contact with the bookmaker. You can also find help through their email support as well, which is done through an online form. There is a good support centre there so you can always browse through frequently asked questions too. Their live chat support is available 24/7 365 days and email support is in operation during working hours 09:00 to 22:30 on a daily basis. There is also telephone support.
Overall / Conclusion 5.7/10

The basics that Elitebet Kenya do, they do well. You can't knock them for that. They have a bigger focus on the sports betting sections of their website, but there is actually a solid Jackpot in there, if you like your sportsbook simple. The inclusion of Asian Handicap betting is a big plus for them and their live in play betting section is nice. All in all, an excellent bookie but there is a lot of upgrades and services that they could add to really push this on.
Claim your sign up offer *
Register at Elitebet Kenya
Deposit and place a minimum Ksh 50 bet
Get various free bet tokens!
Get the Elitebet Kenya welcome bonus!
Sign up here at Elitebet Kenya!
* New Customer Offer, T&C's apply, 18+. Please Gamble Responsibly. See details directly at Elitebet Kenya.
Let us know your thoughts in the comments below. If you thought this was helpful, why not share it with your friends or family on social media?
Overall Rating
2.9 out of 5.0
★★★