See the top AdSense alternatives 2018 as described below. These best Ad networks are listed in order of merit considering various factors, among them; the ease to reach a payout threshold, ease of payment (marjorly the best Google Adsense Alternatives paying via paypal, cost per click, CPM rates /pay per impression, Click Through Rate (CTR) of the Ads, method of payment, trust level,....

Remember that as you read this list, we rate Google AdSense as the best of all the Ad Networks for 2017. However, if for some reason you are not accepted, get suspended, or banned from their program, then you can always try the following best AdSense alternatives.
In a nutshell, here is the top 10 Google AdSense alternatives in 2018:
Top 10 AdSense Alternatives 2018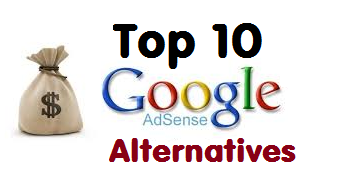 Here is the list of the top 10 AdSense alternatives 2018. Each Google AdSense alternative has a precise review. Follow the list and discover how these top alternatives to AdSense fair. We recommend signing up to each of them to test which ones suit you best. We have provided you with sign up links to each Ad network to ease your work. Remember! Signing up is absolutely FREE.
NOTE: All the companies listed here are free to join. Never pay money to join any online advertising network. Trends show that such programs are most likely to be scams that never pay you if and when you reach a payout.
NOTE: Some of these online ad networks for publishers may or may not accept/approve or may require you to wait for a certain span of time (the time is usually very short, less than 72 hours) to verify the validity of your site or you in any case to join their ad network platform as a publisher. The major factors that usually get considered are traffic statistics and web content. If your website/blog does not get approved, there is a large number of other online ad networks you may join for free and with instant approval. This list only highlighted the networks we feel that pay well, have good advertising base, will pay you when you reach a payout threshold, among other factors.